Do you know how to align the objectives of the sales and marketing departments of your company? Daryn Smith, CMO at We Are Marketing, held webinar explaining how companies are implementing Smarketing and offers tips on how to do it successfully.
Smarketing (sales+marketing) is the process in which companies try to align the objectives of Sales and Marketing departments, with the aim of increasing revenues. Its correct application is fundamental for companies to suceed in growing their business.

This year We Are Marketing conducted a study of the Sales and Marketing managers of 90 companies around the world (United Kingdom, United States, Italy and Spain, among others). The report, titled 'State of Sales and Marketing Alignment 2017' offers insights into how these companies are implementing Smarketing.

Daryn Smith, CMO at We Are Marketing, held webinar to share the insights found within our study, offer advice on how to successfully apply Smarketing, and highlight the negative consequences of not aligning these two crucial departments.

"More than half of the companies have their Sales and Marketing goals misaligned". The main cause of this misalignment is a historic conflict between departmental objectives: marketers foster brand awareness, while sales teams are measured by the revenue generated", said Daryn.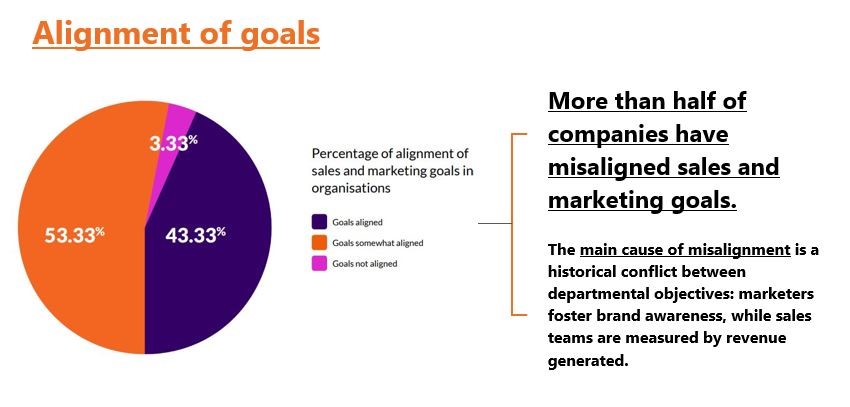 What is the reason for the misalignment?

"Almost a third of respondents say that Sales and Marketing do not agree on who is their ideal customer", explains our CMO in his webinar. "One of the first things in terms of getting Sales and Marketing alignment is to define who are the buyer personas", he said.

How many times have we heard Sales complain that Marketing does not give them qualified leads, and Marketing says that Sales does not convert the leads they send? According to Daryn, one of the compelling reasons when explaining why a company doesn't apply Smarketing in their company is that, "63% of companies do not have a documented definition of what constitutes a qualified marketing lead for sales".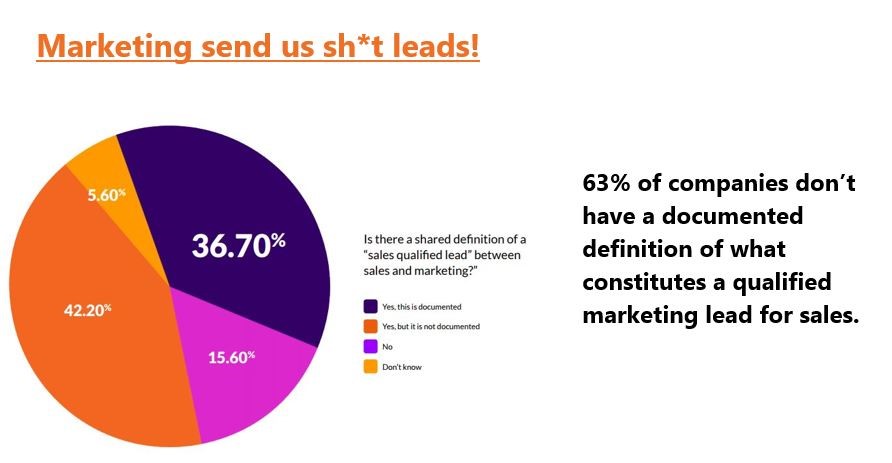 So what is the solution?

In 2004, we started talking about the Chief Growth Officer, although it wasn't until a decade later that this concept began to spread. This professional figure has the objective of leading both the Sales and Marketing departments, which is a great solution for applying Smarketing. "Companies like Coca Cola and Colgate-Palmolive are leading the way with a single Chief Growth Officer", explained Daryn.

But for now we have seen that it's not a solution chosen by most companies. "61% of companies have different leaders for the two departments". According to the results of our study, companies that have the same leader for Sales and Marketing obtain better results in their business.

Did you miss the webinar? Don't worry! Now you can download the recording of this seminar online and get tips on how to align Sales and Marketing, and learn how companies are integrating technologies, such as CRM or Bots, in this alignment process.