Man does not live by words alone in the digital world; Canva, a spectacular tool for web content, helps us integrate those words with images. It's handy for those who are not designers. Curious about its capabilities? Let's take a look.
What is Canva? Many people will ask themselves this question since it is an increasingly popular application in businesses of all kinds, especially for your content plan. Canva is a graphic design tool established in 2012 that offers you online templates to create your designs. It has an attractive, intuitive, and easy to use interface and many templates to choose from 8,000 templates to form more than 100 types of assets: flyers, infographics, social network images, emails, and posters.
In a short time, Canva has become an indispensable tool for marketing professionals, bloggers, and small business owners. However, its great advantage is that it gives "non-designers" the possibility of creating straightforward content to fulfill their objectives.
<iframe width="700" height="400" src="https://www.youtube.com/embed/_XOWhA1dK7Y" frameborder="0" allow="accelerometer; autoplay; clipboard-write; encrypted-media; gyroscope; picture-in-picture" allowfullscreen></iframe>
The primary way to use Canva for business is to incorporate it into your web design and development, creating engaging content that convinces potential customers and makes existing ones loyal. You only need to choose the images, fonts, and perfect colors that fit the style you want. If you want to know how Canva works and investigate Design Thinking, read on:
How to use Canva: follow our steps
Canva Templates: choose your favorite
Canva offers a wide variety of formats to generate the design that best suits you: social media templates, marketing materials, documents, presentations, invitations, ads, eBooks, resumes, and even holiday cards, allowing you to work on both digital and printed material.
It is important to note that you can also customize your design as you like.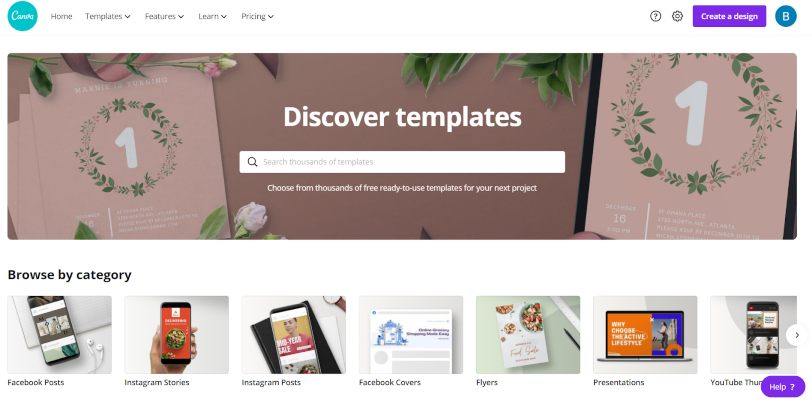 You can use Canva editor to modify your design
Canva has a fairly intuitive drag-and-drop interface at its basis. Handling it only takes a few days at most and as soon as you have made 3 or 4 designs you will have caught the trick to go fast and furious.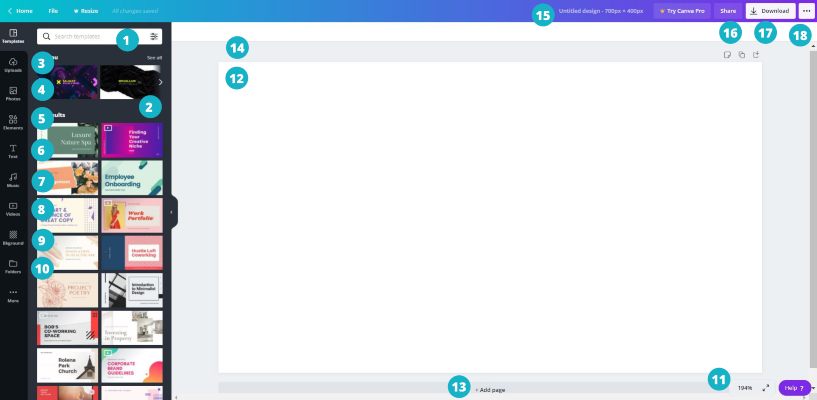 Search: You can find images, icons, and graphics.

Templates: Canva offers a series of ready-to-use templates.

Uploaded files: Canva allows you to upload your elements.

Photos: Choose from the selection of images that Canva makes available to you.

Elements: A variety of icons and shapes to help you with your design

Text: Here, you'll find pre-designed text in many different formats that you can change as you please.

Music: Put the soundtrack to your videos.

Video: You have several options in this tab depending on your video's theme (cities, fashion, business, beach).

Background: If you are not using a design (i.e., starting from scratch), you can use one of the many background colors and images found here.

Folders: Order your designs in different folders.

Zoom control: Use this option to make your work area larger or smaller.

Canvas: This is where you will create your design.

Add a new page: Add another page to your work.

Page Control: Lets you know which page you are on.

Name: Assign a name to your work.

Share Button: You can share your design with anyone.

Download Button: You can download your image here.

Other Options: Here, you will find ways to share your design on social media or save it to your Google Drive.
Uses thousands of resources from the Canva website
Several resources can help you communicate what you need to convey: images, graphics, icons, and more. You can modify the elements, change their color, font, position, or transparency. Play, explore, and find which components communicate your message best.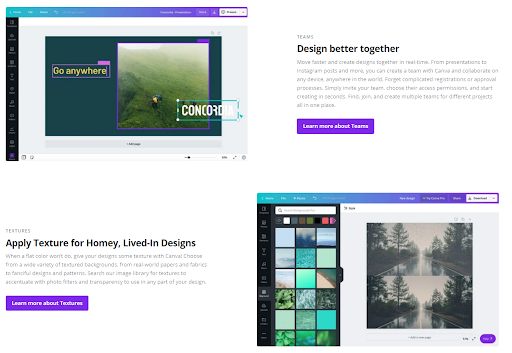 Create designs with Canva that you can download for free
Once you're done, you'll next wonder how to download a Canva project. You can choose the format you want and use the image as you see fit. As you can see, Canva offers you several options.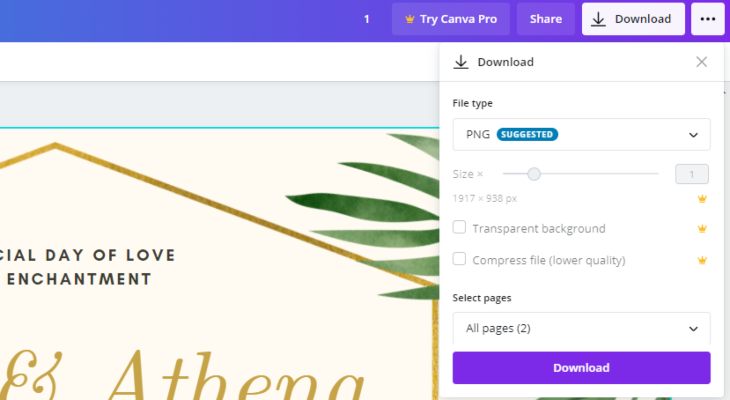 Share your Canva design in a Facebook or Twitter post
You can share your project on social media or send it directly by email.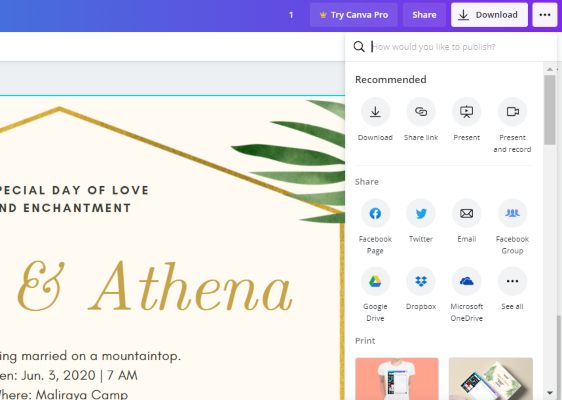 Create an account in Canva. How to sign in
With an email or your Facebook account, you can register and access the tool for free. Suppose you need to do work for a brand that has stricter visual brand identity standards. In that case, your best bet is to pay for a premium account, which allows you to upload your fonts, save a broad color palette, and, above all, have the option to resize a project to repurpose in another format.
What is Canva and why choose it: pros and cons
The benefits of using Canva
Work with Canva your design online directly in your browser, so you don't need to install any software.

It's effortless, intuitive, and quick to use.

The designs are stored for later reuse (if necessary).

You can use your own image bank and corporate imagery.

It has a version for iPad and iPhone.
The drawbacks of using Canva
You have some instability when working directly from a browser and being connected to the Internet.

Some resources are not free.

Design tools are limited.

You won't be able to use certain functions such as align objects, use guides, etc. At least in the free version.
Canva has made a name for itself in web apps thanks to its ease of use, versatility, and price in a short time. It is the graphic design tool designed for "non-designers" to get quick and attractive solutions within your professional sector. Dare to use Canva because, as its slogan says, Canva is the power of design.