Marjal was looking to increase its online, direct-to-consumer sales and the number of reservations through its website. How could they work to increase their return on investment (ROI?) Here's how we created a 360° marketing strategy to help them achieve tangible increases in their primary business metrics.
Marjal's digital channel was not reaching its full potential. Like other firms in the travel and tourism industry, it had to contend with third-party online travel agencies for bookings. With that in mind, it sought to overhaul its website to do just that, along with a comprehensive marketing strategy that would maximize all its performance objectives in this part of its business.
But before we go any further, what is Marjal?
Marjal is a Spanish luxury campground and resort operator with two properties on the Costa Blanca in southeastern Spain. Marjal's properties offer luxurious campsites as well as bungalows (even glamping on one of its sites). The resorts offer the amenities of traditional resorts like a-la-carte and buffet dining, waterpark, activities for kids, pool bar, and more, allowing for guests not to have to sacrifice the charm of staying at a campground while having the full resort experience. They recently acquired a new campground and resort in Tarragona in its efforts to expand its presence throughout the rest of Spain.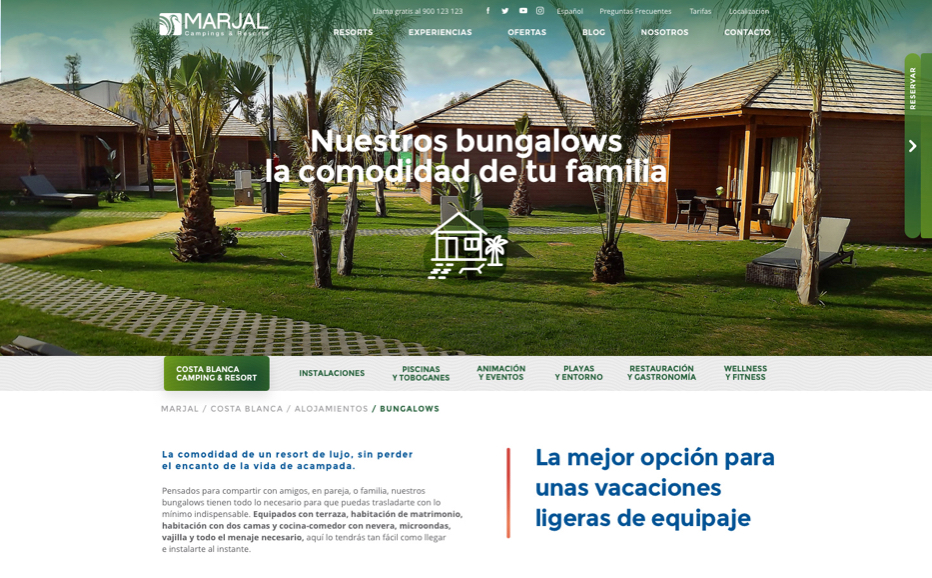 What was our challenge?
Marjal's ultimate objective was to increase its earnings from its direct-to-consumer digital channels. Their KPIs looked at not only increase the amount of revenue in monetary terms stemming from this channel; they also wanted to increase the number of reservations made through the direct-to-consumer channel.
Not only were we tasked with helping them boost their direct-to-consumer channels. Marjal also sought to foster guest loyalty and was looking for a way to capture guest email addresses. They previously were able to get them when checking into the campground, but this information acquisition took place offline. A more efficient way to boost its database of email addresses, therefore, was critical, and an increase in the traffic and the quality of that traffic to its website were also going to be instrumental in reaching its goals.
Finally, we had to do all this while considering the two buyer personas that are at the heart of Marjal's guests. On the one hand, we had to attract retirees from European markets such as the United Kingdom who spend the winter months on campgrounds, as well as families (from the domestic market) who came to enjoy Marjal's campsites in the summer months. As such, we would need to adapt the campaigns according to these buyer personas.
How did we do it?
Our first step was to develop an inbound marketing plan that covered all stages of the customer journey through our buyer persona analysis. Once we defined the buyer personas, we carried out inbound marketing campaigns to foster direct-to-consumer sales. An example of one of these campaigns was for the spring/summer 2017 season.
When Marjal expanded the number of available campsites and updated its amenities at the Guardamar campground, its prices increased from the previous season. Since its rates were higher than its competitors, and it operated in price-conscious market segments, it was critical we come up with a way to have more reservations on the Marjal website while ensuring the client did not have to spend a lot of money in the campaign. We executed a value-adding campaign that aimed to boost bookings directly on the Marjal website. We did just that by marrying the best of the online and offline spaces, and we focused on pirates to pique children's' interest while offering a deal exclusively for those booking directly through Marjal. When it comes to families, children are vital in helping convince parents to choose a vacation destination. Our Creative Team came up with three pirates and used them as a basis for activities to keep kids occupied and to create once parents booked their bungalow or campsite. Once adults booked their stay, we sent them the link to an asset that their children would use during their vacation.
We optimized the Marjal website to facilitate direct-to-consumer reservations as well as streamlining website assets to signal potential guests to deals that were part of the pirate campaign. It did not stop with Marjal's website. Using our prowess in HubSpot's marketing automation platform, we integrated the Marjal blog with the CRM. We also powered the campaign's landing pages, lead-generation forms, workflows, and the campaign's entire email marketing through the HubSpot platform, allowing us to unite all the steps of our Inbound Marketing initiatives.

As a complement to these actions, we also ran a Paid Media campaign with two prongs. One was running GoogleAds campaigns comprising the traditional pay-per-click format, and we also ran social ads as a compliment, with Facebook being our primary platform of choice.
Finally, we also successfully worked with influencers who allowed us to acquire new users with this medium. The most fruitful of these collaborations was that Spanish influencer Verdeliss, with more than 897,000 followers published posts about Marjal Costa Blanca as well as posting several videos and photographs during her stay.
The project included the following areas:
What results have we seen until now?
The Pirate campaign example we cited above was a resounding success. Compared to numbers from 2016, we saw a 128% increase in the number of reservations in April and a 148% increase in the number of bookings in May. These increases also translated into higher earnings. In April 2017, we saw a 95% increase in revenues compared to the previous year and a 156% increase in May 2017 compared to May 2016. The results are all the more impressive given the low costs incurred in carrying it out.
360° campaigns that stem from the Inbound Marketing philosophy, as noted in figures, allowed us to help Marjal duplicate the number of bookings, as well as earnings. For other firms in the tourism industry, results like Marjal's prove how they are allies in increasing their ROI.
What's next for Marjal, you might ask? Their efforts now focus on making processes more efficient to continue serving its guests allowing them to reduce investment on their end and continuing to increase the ROI from their marketing initiatives. Potential additions they are looking to integrate into their direct-to-consumer strategy are adding a chatbot to its web platform and including extra value-adding content on their website to better address their needs.