While hoteliers have always been tasked to know what their guests want when they want it, it's more vital for them to personalize their stays from the first contact they have with their guests than ever. And as other industry forces are driving hotel chains towards commoditization, operators are looking for a way to stand out from the crowd. How can they do that? The answer comes from their long-standing modus operandi and the help of some solutions coming from today.
The IBM Institute for Business Value Hotel 2020: The personalization paradox study put into perspective the challenges the hotel industry has been facing and will continue to suffer. One of the struggles it has been fighting is commoditization, and the figures are, in its words, are getting worse. They noted that 68% of travelers saw little to no competitive differentiation between hotels. If we compared that to airlines, another segment part of the industry, 57% of consumers see significant differentiation among airlines compared to only 37% of them doing so for hotels.
The drive towards personalized, connected experiences
Commoditization is just one of four industry forces that IBM notes will be the impetus for requiring more guest customization services in hotels that I'm highlighting in the diagram below, but what are the consequences does commoditization have for hotels?

Source: IBM Institute for Business Value
Given that consumers perceive there's more significant differentiation among airlines than hotels, hoteliers should be alarmed, especially since commoditization has also been a long-standing issue for airlines as well as for hotels. It's also why ten percent of leisure travelers will spend eight or more hours looking for the best price for the parts of their trip, whether it be flights, hotel, and more. If, in their eyes, the offerings are undifferentiated, they are willing to slave hours to find the best deal because, in the end, it makes no difference to them.
Joantxo Llantada and Giorgio Ascolese also touched on the other industry forces driving personalization. The one that most piques my interest, as the Sales & Customer Experience Director, is the increasingly-demanding expectations coming from consumers. With the 2nd Edition of the Salesforce State of the Connected Consumer Report found that about half of consumers stating that companies are not providing exceptional experiences across industries, it's not an isolated demand just for hotels.
Consumers are taking their experiences from other industries and bringing their demands into hotels. Let's take the example of Wi-Fi that IBM mentions. The reason most hotels have a plethora of internet service on their properties is that it's because guests see it as fundamental, not an a-la-carte amenity. The same development is also going to occur with personalization services, especially when we think about the predictive analytics we're used to seeing when Amazon predicts items we'll like based on our prior purchases.
But this all needs to be done at scale
As important as personalization is, we also need to recognize that there's another force at play that's going to serve as a counterweight: standardization. While this could appear contradictory, standardization is fundamental for fostering a foundation to build a culture for personalization. Here's why.
IBM notes four forces driving the need for standardization: consistency, speed of innovation, cost pressures, complexity, and expectations. As customers, or in our case, guests, demand a consistent experience across all touchpoints, or in the case of a hotel chain, across all properties or parts of a hotel experience, standardization of hotel operations will prove critical. Not only that, the speed of innovations to come, as Llantada and Ascolese noted in their study, further drives the need to create a standardized environment to allow for hotels to apply agile operations to management, add new technology to their processes, and be at the forefront of offering the best services to their guests.
Of these points, consistency and speed of innovation are the ones we will want to pay close attention to. IBM's survey results found that while 89% of the guests they surveyed stated they valued consistency in their stays at hotels but fewer than half saw consistency between hotels of the same brand. For those with substantial brand equity, this is why consistency will be fundamental, especially if their goal is to provide an omnichannel experience across all properties.
And why is standardization essential to adopting innovation quickly? IBM said it best:
[H]otel chains that have standard processes will be able to increase effectiveness by eliminating operational uniqueness from property to property and implementing new solutions quickly and more consistently. Hotels that understand the importance of innovating in the next decade will recognize that standardized operations will act as a multiplier on the positive effects that innovation will have on both customers and the bottom line.
Examples of hotel personalization strategies in practice
The industry's leaders have it clear: "personalization of the guest experience is the industry's new frontier." There are numerous possibilities to implement a differentiation strategy across different parts of a hotel stay for all industry players. IBM gives three recommendations to hotels to best reap the benefits personalization can provide: serve more small segments, give guests the chance to customize their experience beyond segments, and deliver consistent products and services.
What examples of differentiation do we see in the hotel business? Llantada and Ascolese mention that numerous hotels are using Amazon's Alexa virtual assistant through putting Echo, Echo Dot, and Echo Plus speakers at Marriott, Westin Hotels & Resorts, St. Regis Hotels & Resorts, Aloft Hotels, and Wynn Las Vegas hotels that let guests control their room preferences call down to reception, play music, or even order room service. The hotels also get access to software analytics with the guests' feedback about the technology, which is critical for learning about their preference for subsequent visits in the future. Here are others you can also include in your guest journey.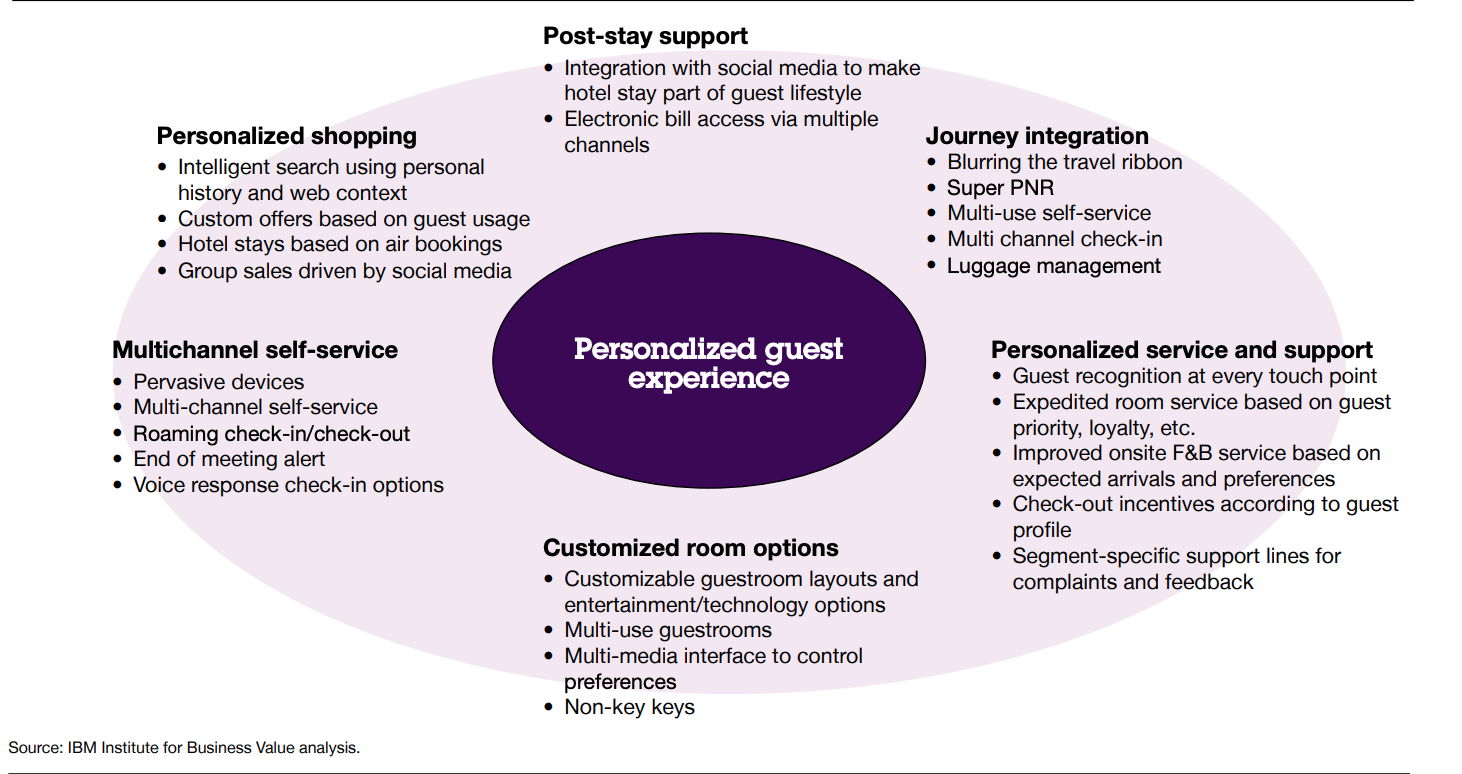 Source: IBM Institute for Business Value
In April 2018, Marriott rolled out a new customer recognition platform, powered by Salesforce, that allows the chain to "conduct one, continuous interaction with members of its loyalty programs across guest channels including call centers, on-property, web and mobile, on a global scale." Loyalty program members can use Apple Business Chat to chat with an Engagement Center Associate weeks before check-in to make special requests for their stay, and then a day before they check in can amend them in the Marriott app with the Mobile Requests functionality. Upon check-in, reception will notify them that the request was made.
What lesson can we take from the Marriott example? They used a platform to foster standardization and deliver the customization for their guests and boost their business's ability to provide a better experience. The changes also have to be feasible for the staff; one of the most striking notes from the video is that they wanted to make sure their employees could easily navigate the technology they had to use when interacting with consumers.
And, let's not forget that we should be on social media looking for comments and suggestions coming from guests to make improvements in services. Checking social media will give you the source of inspiration you need to make the visible, doable changes that will not only make your guests feel like their feedback is valued but will also earn their loyalty which rewards programs will fail to do.
The key takeaway from all of this is that personalization works. According to IBM, over 70% of those surveyed had positive experiences with personalization initiatives. They also noted that they had an equally-high response to "both on-property personalization efforts and those that were delivered via web sites and other online channels." These figures bode well for those looking to provide both online differentiation and offline personalization once on a property.
Welcome to the new frontier, hoteliers. Isn't it time you embrace it?