Traffic, Conversion, Closed Deals, and Customer Value are the default KPIs that we use to focus any Inbound Marketing campaign. In order to study, analyze, and comprehend this process, we have to take a look at two specific actions: Capturing and Converting. How can we bring these components together? The answer lies in workflows.
Workflows are gaining increasing prominence in digital marketing strategies. That's why we need to grasp what they are, how they work, and the best tools out there in order to deploy them according to your needs. These questions will make the difference between your brand's success or failure in implementing them. Here's how you should grasp a workflow in an Inbound Marketing strategy.
What's a workflow
Gaining tangible results is at the heart of every Inbound Marketing strategy, and that's why automating and measuring the impact of every action we carry out through workflows is fundamental.
Workflows (a sequence of actions of processes) start to work when a user initiates their first interaction, whether it be clicking on a specific web page, filling out a form, reading an article, or downloading an ebook.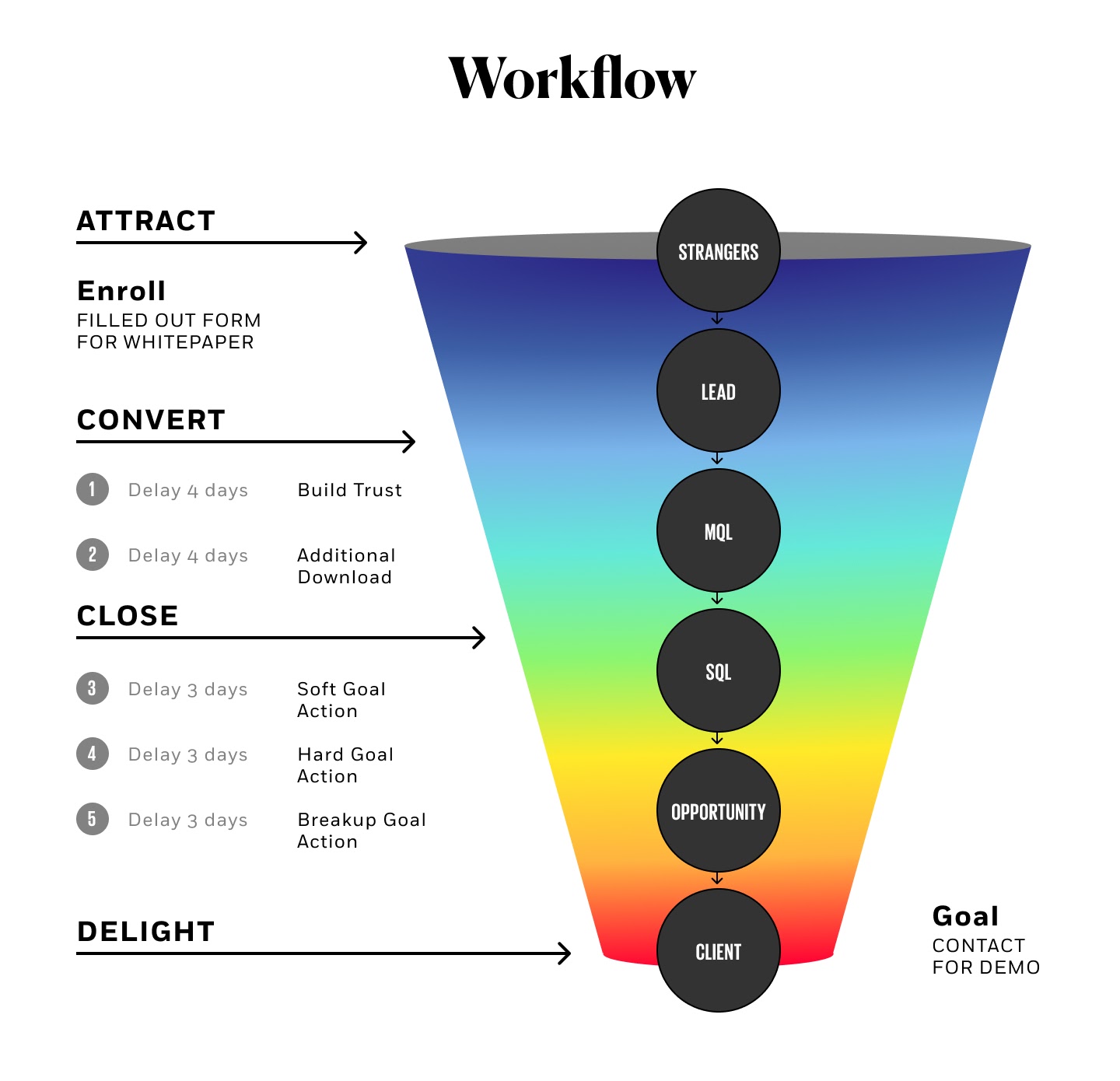 Workflows are triggered by this "initial encounter". In this case, the workflow is a series of actions (like sending emails) that we previously automated. These actions come about to have every lead pass through the sales funnel until they turn into a customer.
The main benefits of workflows are:
Generating an optimal, qualified database.

Knowing, analyzing, and educating that database through lead nurturing (and guiding those leads through the sales funnel).

Automating an array of actions while boosting productivity and allowing the team to focus on other tasks.
How to create an inbound marketing workflow diagram:
1. Define your Buyer Persona and goals
Who are you going to target? What do you want to achieve? Who will your prospects be? You need to have precise goals you want to achieve and offer content that meets your target audience's characteristics. I'll break it down in my next point.
2. Content is your greatest showcase
As Pablo Picasso once said, "Inspiration exists, but it must find you working." Not everyone will read all your content (or receive it well). Be concise and offer logical narratives that will attract and capture leads.
3. Choose the best tools for workflow management
There are various tools and programs that will make it easier for you to deploy your digital marketing workflow process. Here's a selection of some of the best:
- Marketing Cloud: This program is one of the B2C (Business to Consumer) Salesforce clouds. This tool's primary benefit is that it lets you create personalized experiences for every user through the customer journey. There are numerous sub-clouds like Journey Builder, Email Studio, Advertising Studio, Mobile Studio, Social Studio, and Audience Studio that enable you to offer an optimal experience on every channel.
- Pardot: This Salesforce solution is a lead management and automation tool geared towards B2B enterprises. Pardot's strength lies in that it lets you quickly and visually grasp each prospect's funnel stage and the next steps pending in order to nurture these leads until they turn into customers.
One of the main benefits is that it lets you create smart automation.
- Hubspot: This software is one of the most popular marketing automation tools for workflows in the digital marketing space. Their software makes it easy for you to detect both sales opportunities and automated, personalized functionalities (depending on every user's behavior in the sales funnel). It also lets you access the possible information about what customers are needing or seeking.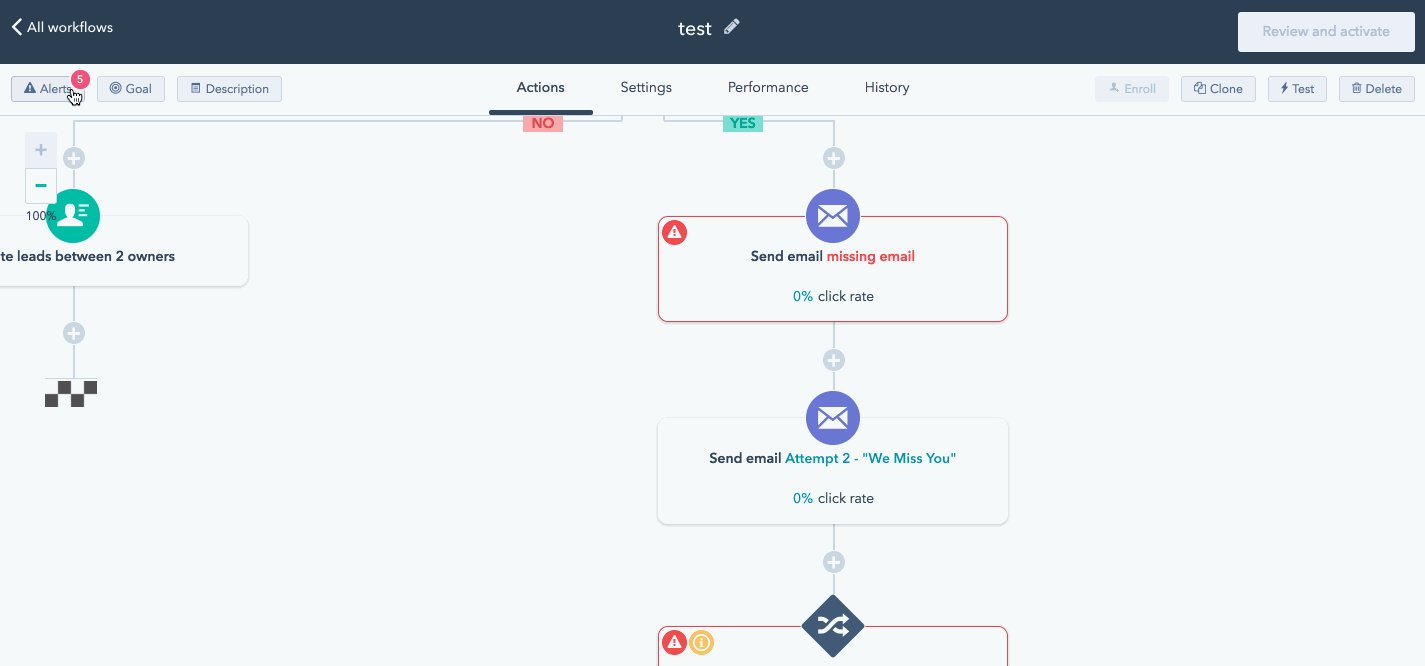 Source: HubSpot
- Act-on: This tool is a direct competitor of HubSpot. It offers services like integrations with CRM platforms like Salesforce, automated and personalized email marketing according to every lead's behavior, among others.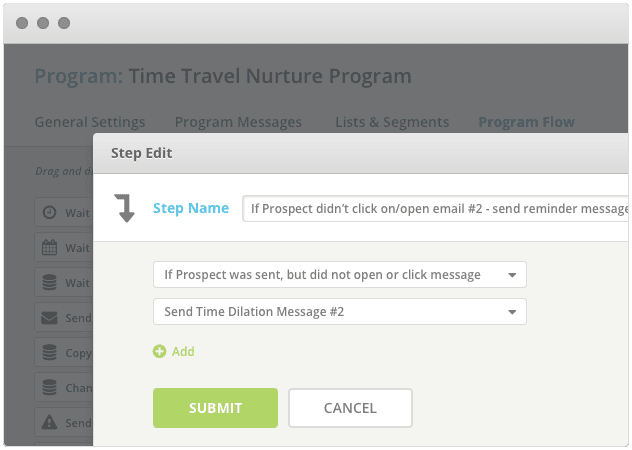 Source: Act-on
4. Create actions to garner results
Once you create the workflow and choose how your leads will enter it, it's time for you to propose and develop tactics. The most frequent are:
Delay. This technique is used to add time intervals between actions. An example is leaving some days or weeks between emails.

Send an email. This action focuses on programming an e-blast to your database. An example would be if a user downloaded a file at the top of the funnel, after some time they'll be ready to receive more sales-promoted content.

Send internal emails. This action determines when a lead moves into a specific part of the workflow in real-time. An example would be notifying the person in charge of sales, so they're aware.
Add/take people off a list. This other action makes it easy for you to add or erase contacts from strategic lists. Well-defined and optimized databases is a critical task for ensuring you're always up to date with the content needs of your leads.
5. Analyze workflow performance
This step involves carrying out an extensive analysis of the actions and strategies that are part of the workflow. You must measure and check if it's working as desired in every part of the funnel, and if it's not, retool the strategy and workflow chart.
Before you go through the performance analysis, consider the following questions: Do you satisfy every lead/customer's needs? Are you meeting the goals stipulated in your strategy? Are your customers demonstrating interest (for example, how is the open rate in your email marketing efforts)?
Three benefits of implementing workflows
You need workflows to help you manage your portfolio of potential clients. Here are three of the most compelling reasons.
1. Turn mere users into prospects. Workflows let you segment your database, grouping them by their traits and behaviors thanks to the information they provide in their contact email and forms. That's why having your form fields for your contact form well defined is crucial for defining the information your firm needs in order to nurture those leads.
The days of sending a mass email to all your customers in hopes they would open in one click are long behind us. It's time to use this tool to send emails to prospects that are genuinely interested in your products and turn them into possible future sales. Defining your content marketing strategy for your workflow will serve you well.
2. Personalize your content and program it in your workflows. If you have a significant number of prospects close to finalizing the sales funnel process, you could send them emails three times a week rather than only once.
You have the control and ability to choose the frequency of your email marketing along with the type of content you send to every customer segment, whether during the week, on weekends, etc.
A more personalized and segmented Inbound Marketing strategy will give you more chances to get your message right and tailor it to your prospects' specific needs.
3. Using workflows saves you time. Automation lets your team focus their efforts on other tasks once you've designed your agile workflow process. Creating a marketing automation workflow makes it easier for you to capture and nurture your customers while making it more comfortable and less tedious.
Plus, it helps you delineate distinct functions and tasks for every member along with the improved alignment of your Marketing and Sales departments, as you have a more precise process and specific needs in every step of the sales process for your leads.
Now that I've broken down how to create a workflow in an Inbound Marketing campaign, it's your turn to put the advice and tools I've recommended into practice to start turning mere leads into potential customers. You can do it!