Teams working remotely is a growing fact as more and more corporations have teams spaced out all over the world. The major challenge is to ensure that they're all coordinated, but with the Agile Methodology and Scrum, that problem's solved.
Thanks to internationalization, the Internet, and new technology, companies (both large and small) can create virtual teams scattered throughout the globe. When human resources expand their borders, there's an increase in the talent and the quality of the product or service we can offer a customer; yet, at the same time, it's also more challenging to coordinate the people that make up these teams. How can we rectify this? By using the Agile Methodology and Scrum.
What are virtual teams?
Before we go ahead and figure out how to mitigate this problem, it's critical we understand the context many firms find themselves in as they decide to move away from the "traditional team" move where everyone works out of the same office.
In this new era, virtual teams are work teams comprised of a group of people pursuing the same objective even though they are not in the same physical place; meaning, they are not in the same location. The various team members can work from home or out of offices in different cities or countries.
What is this model's aim? Expanding human resources' frontiers by acquiring talent in any corner of the globe, taking advantage of teamwork's benefits, and enjoying the convenience that new technologies provide. But to do this, we first need to find the magic formula for the virtual team to be possible and that the impact that team members' geographic separation could bring.
The Agile Methodology and Scrum: the key for coordinating virtual teams
At WAM We Are Marketing, we are a team with people spread out between Madrid, Valencia, Milan, Miami, as well as including our clients, also scattered throughout the planet. How have we been able to achieve it? We've adopted the Agile Methodology and Scrum in our business processes.
The agile methods that bring Agile and Scrum together, are those project management methods that allow the way we work to a project's specific needs at any moment straightforwardly and quickly. Our recipe for success roughly consists of interdisciplinary and self-organized themes with a shared decision-making protocol.
This method's primary quality is that a project's work periods for arriving at an objective are short and they tend to mark the time for handing in a part of the project. This aspect lets us work in phases and have quick and continuous turn-ins of the project's deliverables. Also, in the case of any change, it's easy for us to factor it in and not result in delays in the predetermined deadlines.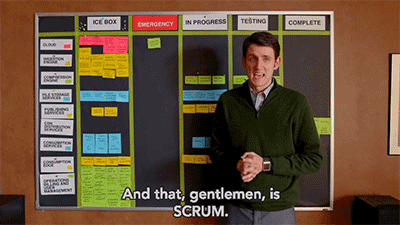 How do we introduce the Agile Methodology and Scrum into virtual teams?
The crucial factors for working with virtual teams is be organized, have crystal clear objectives and establish effective communication channels that let everything run as smoothly as it would in a traditional unit.
We're now going to take a look at the essential steps for having decentralized teams work in an agile way:
1. Create clear processes with the Agile/Scrum ceremonies:
Agile projects follow some cyclical procedures where the ceremonies where the team and the client intervene are critical. They originally arose as quick meetings to follow up on the project's progress and detect possible problems that can occur.
In general, as the below image depicts, we number all the tasks that need to get completed in the project with help from the client, and we establish priorities to signal all the deliverables. Afterward, we determine the length of the Sprint, which can range from one week all the way up to four weeks for the first and then we decide what tasks are going to get completed. Up until the turn-in day, we have daily 15-minute meetings to find out what every team member is doing, what obstacles have come up along the way, and what they are going to do before the next meeting.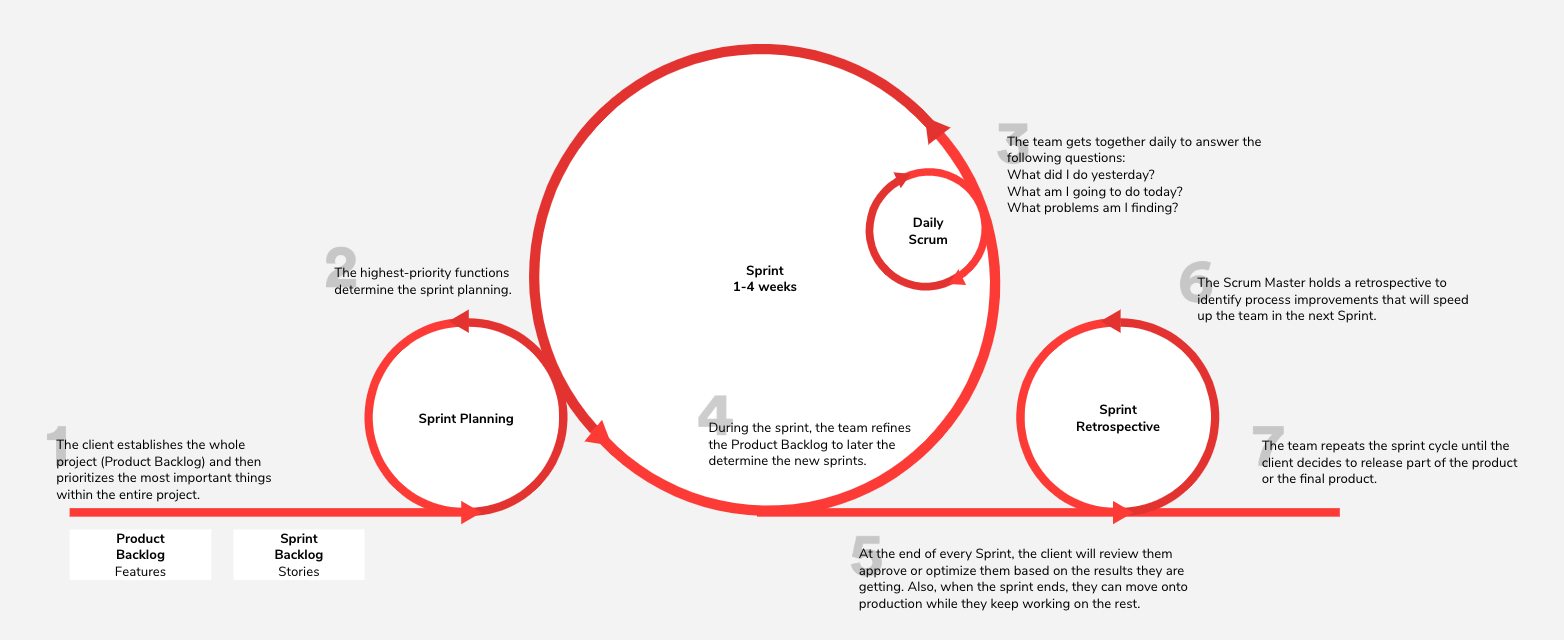 Once the first Sprint is complete, we present the work to the client, and after that, the team gets together to detect potential improvements and conduct a retrospective of the project thus far.
The principal ceremonies in Agile and Scrum are:
Sprint Planning Meeting.
Daily Scrum Meeting.
Sprint Review/Demonstration Meeting.
Sprint Retrospective Meeting.
On my team, when we're all physically present, we like to have our daily meetings standing up to start the day with energy and activate our minds.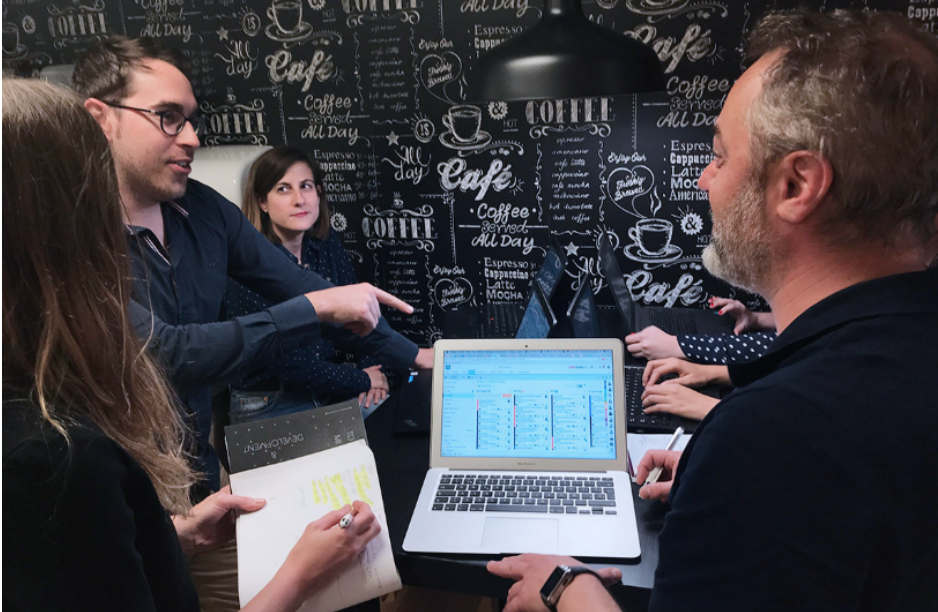 2. Use management and collaboration tools
At WAM, we work with TaskRay, a tool that uses the Kanban model to order tasks and follow up on the work. This tool lets us visually know who's doing what and what's still in the backlog. The whole team has access and can get informed on the project's status.
The way this works is straightforward: a task gets created and then gets assigned to the person who has to complete it. Afterward, the person in charge of finishing it has to move it into the appropriate column based on whether the person is working on it, it needs review or is complete.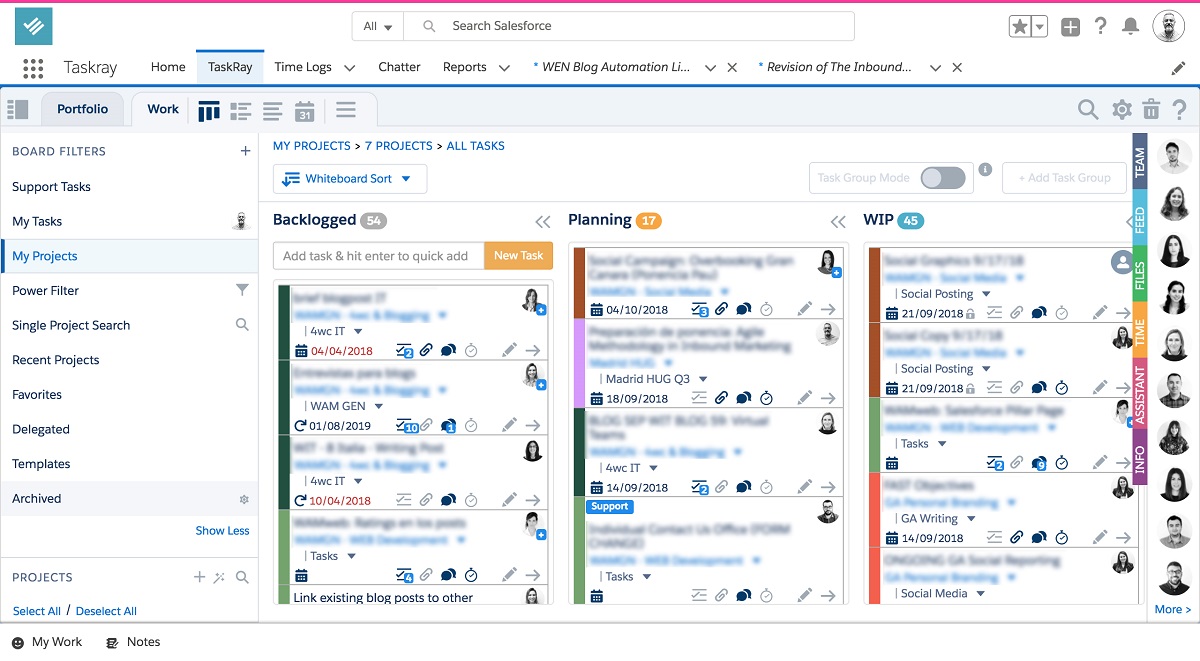 Any similar tool, like Trello or Asana, is incredibly useful when working with a virtual team and nobody loses sight of what tasks or assigned to him or her.
3. Take advantage of technology to be closer
With video calls and chats, it doesn't matter if you're at the desk next to somebody in the same office or 100 kilometers away: we're more connected than ever. And that's a benefit when it comes to working with virtual teams and being able to maintain adequate and fluid communication.
At WAM, we use Slack to solve any quick questions using chat and Google Hangouts to have our meetings and ceremonies using video calls. This way, all team members, no matter where they happen to be, participate in the same way, and we successfully and efficiently communicate with each other.
Distance is no longer a barrier for creating an efficient, coordinated, and cohesive work team, thanks to the Internet and new technologies.
By applying these ideas, any company has the chance to expand its boundaries and work with virtual teams without it negatively impacting the quality of the work it puts out. The performance figures can even improve or, at least, it's been that way for us.