"To know what people really think, pay attention to what they do, rather than what they say." This quote from René Descartes comes to mind when we think about successful sales strategies because to know how to sell, you have to get to know your competitors, and to best them, you'll have to analyze "what they do, along with what they say." Let's take a closer look at the building blocks involved in creating these strategies aimed at finding ideal buyers for our products and services.
Sales strategies are undoubtedly a fundamental pillar for any organization's road to success since they can determine their growth and performance. When closely aligned to their marketing strategies, with both departments coordinated under the Smarketing philosophy, they come together to land Sales Qualified Leads (SQLs) and turn those prospects into customers.
However, before deciding what strategies your company will pursue when it comes to selling, you should carry out a deep-dive analysis into several factors, including the market, competitors, products, pricing, or sales technique. As you look at how to develop a sales strategy plan, we'll examine the main challenges you'll need to consider before putting a sales acquisition strategy into practice.
Round One: Product/Market Strategy
Studying the market trends and situations your company operates before you contemplate how to develop a sales strategy. Even if you have an impeccable org chart or adequate positioning, there's no way you can opt for growth if there's no demand.
When you're figuring out how to build a sales strategy, you can see the market from two different points of view or situations. On the one hand, you can look at it from the existing market, or look at it from the new one. You also have to look at two additional perspectives from which you can build a strategy: from existing products, or in turn, brand-new products. Based on these factors, you can come out with four marketing and sales strategy example combinations when looking at the Ansoff Matrix, also known as the Product Market/Expansion Grid.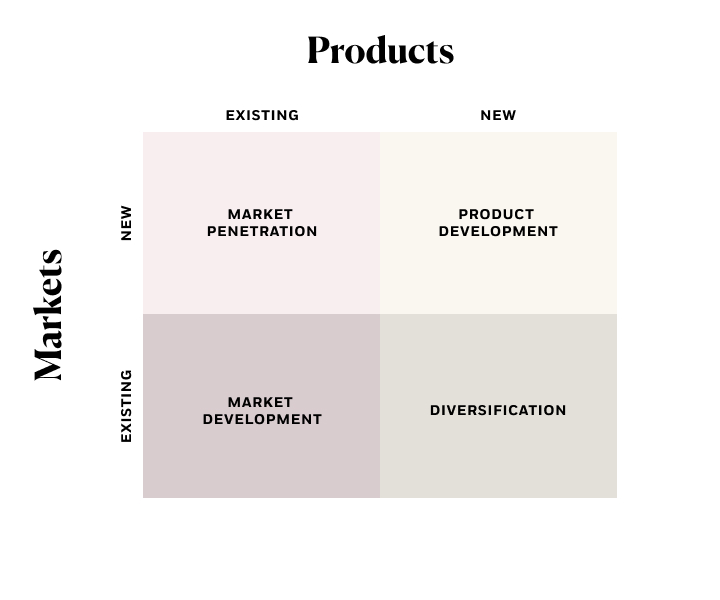 An existing product on the current market
If you're in this part of the matrix, you should focus your efforts on achieving a high rate of productivity by making investments that will reap their rewards in the increased level of sales and decreased costs through the economies of scale and boost in production. We know the product and the market; the challenge is achieving our goals with the highest productivity possible.
An existing product in a new market
This part of the matrix gives us the benefit in that the product already exists, but we're merely moving it to a new, unknown market. We may find the niche we're looking for, even though you'll still have to continuously strive to introduce yourself and your product to the end consumer. You'll need to place importance in activating customer acquisition techniques to get acclimated in an environment that will be new for you as you search for prospects interested in your solution.
A new product in the current market
Is your organization ready to launch a new product in your current market? If your answer is yes, you'll need to substantiate your ability to innovate. You know the market, implying that you'll have access to customer information (their likes, needs, and desires). Your strategy should focus on innovating your products and services and having enough resources to develop and disseminate those actions. Also, take advantage of the information you have about your customers to ensure you have what they need, right when they need it, and a goal you'll achieve with Sales Enablement techniques.
A new product in a new market
This last combination in the Ansoff Matrix is perhaps the most difficult for achieving a product/market growth strategy. You have to add the roadblocks that come with entering an utterly unknown market to the drive and sacrifice that come with launching a new product. This product will take time.
Plus, this combination also has a clear disadvantage because we don't know our customers. We don't know who they are, how they'll react, nor their tastes or purchasing habits. Take these factors into consideration so you can work on them.
Round Two: Pricing strategies to increase sales
In round two, we have to talk about pricing strategies. Companies can think about setting their prices with a basis in:
A differentiated strategy
A differentiated pricing strategy means that its price varies based on customer needs. Organizations that opt for this revenue model focus their strategy on their customer by offering personalized services with a previously-carried out price segmentation strategy.
Monday, a project management platform, uses a tiered pricing strategy for its subscription plans that allow organizations to include more add-ons. This ad shows the benefits of their service and how seamless it is to integrate the tool, especially for those organizations or professionals who may not have had to incorporate them in the past. This action exemplifies a differentiated pricing strategy to create added value for organizations of varying sizes it aims to serve.
An undifferentiated strategy
This strategy addresses the needs of the product. Companies that opt for fixing prices according to this strategy focus on their product, rather than the customer. One of the clearest examples is Apple. They innovate and increase their ability to do so whenever they create and come out with a new product, focusing on their strategy and efforts on innovation without segmenting their customers.
Round Three: Target Account Selling (TAS), a masterful method
Every sales strategy opens up the possibility of applying the TAS methodology or customer-focused sales. This model centers its sales management, or, its sales efforts in the business opportunities an organization may have.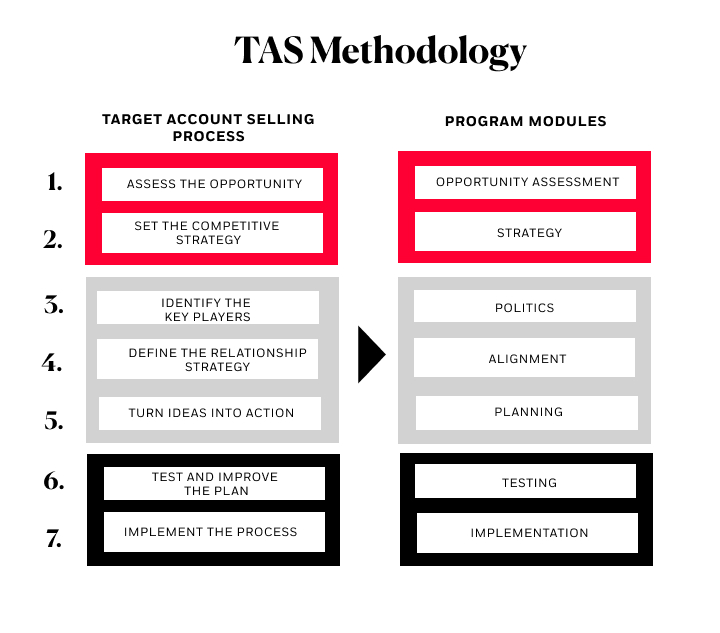 You must integrate your enterprise salespeople within a single optimal system to manage your customers. This methodology has a series of procedures and tools that can help your sales team understand your customer's purchasing process, along with:
Increasing an improved opportunity ratio.

Focusing on beneficial business opportunities.

Increasing sales profitabilities.

Solidifying the sales team.

Carrying out the right actions to boost the firm's gross margin.

Reducing sales cycles.
Bonus Round: Technology's arrival
Technology came to stay, and its impact proves it. Those organizations betting on the Digital Transformation are the organizations best adept at tackling challenges and have a more positive future. Of course, this transformation impacts sales teams since technology can automate and boost processes by increasing efficiency. Therefore, AI is also gaining traction in saving time and optimizing sales processes to set the scene and close more deals.
According to Salesforce, more than 70% of Sales professionals believe their use of Sales Analytics has dramatically improved their ability to offer their customers a consistent experience across all channels. Using the metrics technology can provide your firm with the tools it needs to have a more in-depth view of how you can offer a better experience to their customers. The adoption of this technology is projected to increase by 139% over the next three years as Sales teams are already aware of the need.
We already know you have several challenges ahead of you and that crafting sales strategies that help you get ahead of your competitors is not an easy task. That's why you should trust in a digital marketing consulting firm like We Are Marketing to implement your growth strategy. Challenges are there for you to overcome: getting to know your market, studying your competitors, analyzing your product's potential, deciding on the right price point, betting on technology, and believing in yourself and your project.