In the digital age, in which the consumer evolves every day, CMOs must invest a large part of their budget in technology and be aware of the latest trends if they want to connect with potential clients and take their marketing strategies to success.
A few years ago, Gartner predicted that in 2017 CMOs (Chief Marketing Officer) would spend more on Information Technology (IT) than CIOs (Chief Information Officer). Five years ago, there were 350 different MarTech platforms, and today there are more than 5,000, according to the report Marketing Technology Landscape Supergraphic (2017), created by Scott Brinker, editor of ChiefMartec.

'MarTech' is the combination between Marketing and Technology, and reflects the increasingly close relationship between both concepts.

At the recent Gartner Symposium/ITxpo 2017 event held in Orlando (Florida), some keys to how technological advances are revolutionising brand strategies in digital marketing were highlighted.

According to Gartner, by the year 2021, those brands that redesign their websites to support visual and vocal search will increase digital commerce revenue by 30%. In that same year, more than 50% of companies will spend more on bot creations and chatbots than traditional mobile app development.

The technology company also foresees that, by 2020, 55% of all large companies worldwide will have developed at least one bot or chatbot. Rapid advances in Natural Language Processing (NLP) make current chatbots much more efficient at recognising a user's intention than previous generations.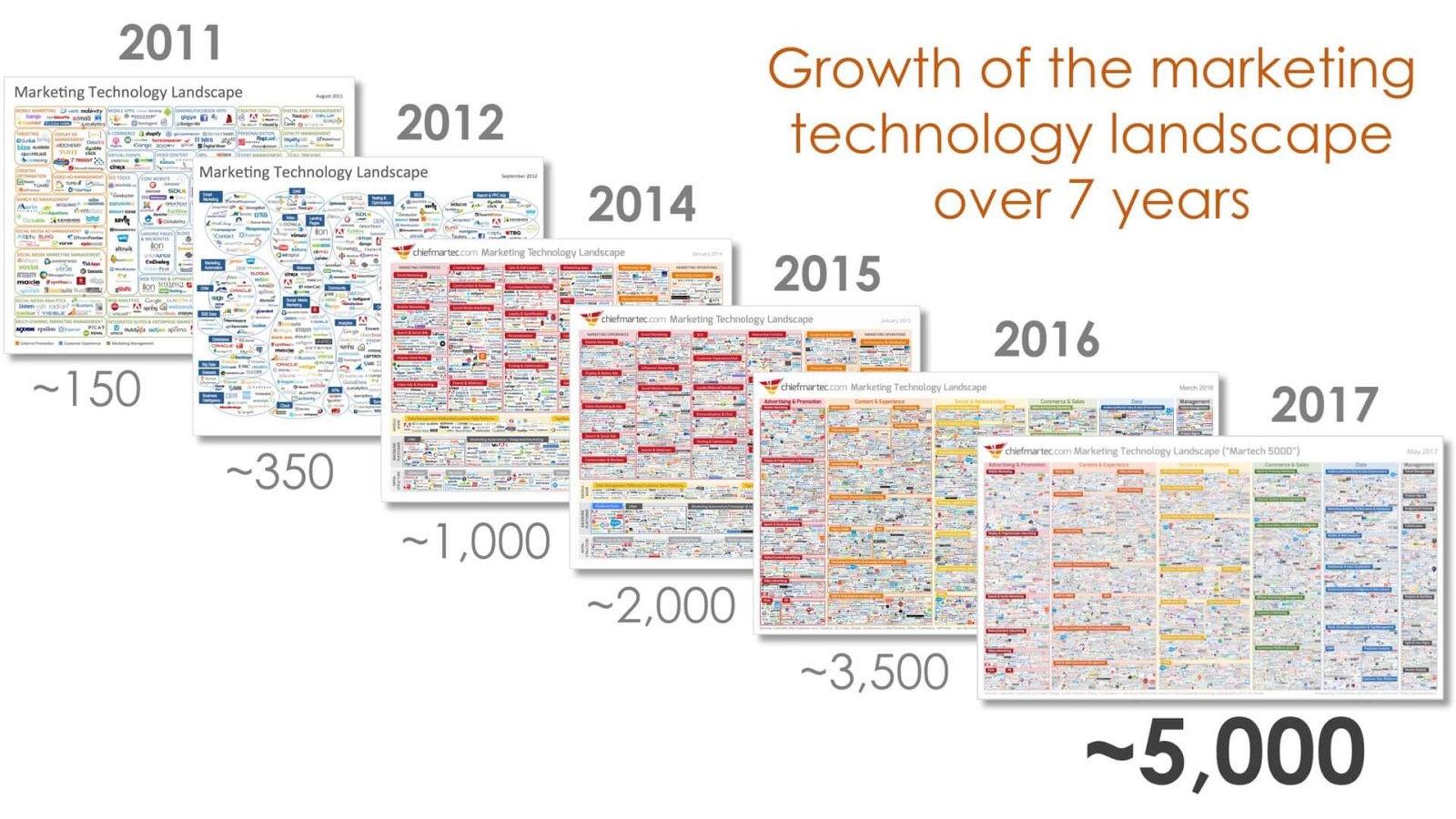 Image: Scott Brinker, ChiefMartec

As consumers evolve, perform their own searches according to their needs and block more types of media, it is increasingly expensive for companies to reach their target market. This is why MarTech has become necessary to achieve this goal.

Next, we explain why it is necessary for CMOs to implement technological marketing (or MarTech) in their strategies:

Prediction

First, to know the data: where your customers are, what they are doing, how they are behaving and what they are likely to do. This predictive capability will enable you to do the right thing to reach your potential customers.

Personalisation

Secondly, it's necessary to 'get in the head' of your potential customers, understand what they need and provide them with the right message, totally personalised. Through MarTech, you will achieve this goal.

Targeting

Third, orienting your strategies to the right potential clients is fundamental in your role as a CMO. Therefore, the combination of the first two factors (targeting and personalisation) will let you know where the right customers are and how to reach them.


These three factors show that CMOs should include technology as a big part of their marketing budget.

MarTech offers CMOs more options to work and build teams within the company, as opposed to subcontracting.

Therefore, a CMO needs to keep updated not only on consumer and buyer behavior and on media trends, but also on technological trends: what new tools are available, what they are for, etc.

But, in a scenario with more than 5,000 different MarTech platforms, this task is very arduous. It's beneficial to use an agency and consultancy specialised in technological marketing to advise you on the implementation of this technology, and to help your strategies succeed.

According to Gartner, companies that have a marketing automation platform increase their revenue by 10% or more within the first six months of application.

At We Are Marketing, we are experts in Marketing Automation, a methodology that allows you to measure the impact of your marketing plans through personalised processes, as well as generate qualified leads (one of the biggest challenges for companies). Get in touch to learn more about how we can help you.