To make the most of your marketing investment, we must truly know what actions and channels work best. That's why it's imperative to tag campaigns and analyze data. It's a task that seems simple, but we have to be careful if we want exact measurement systems.
Extracting and analyzing the results of marketing actions is imperative for being able to introduce improvements and achieve a positive ROI. But to track it, we need to tag our campaigns.
Marketing departments must rigorously employ UTMs and learn to configure Google Analytics to make the most out of their data. If we are capable of doing this, we can improve our marketing.
To start, we have to familiarize ourselves with the following channels.
Google Analytics Channels: what they are and how they are grouped
Channels are high-level categories that tell us from where users accessed our website. These allow us to buy added metrics from each of the marketing channels we are using and see what is working best.
The predetermined marketing channels are the following:
Direct: In general, these users accessed our website by typing the URL into their navigator's search bar. However, for Google Analytics, it can be also qualified as a "visit that doesn't provide origin information." Therefore, links saved as favorites, those within an intranet, or those in PDFs are also counted here.
Organic search traffic: This means that we were naturally positioned, thanks to the page's SEO.
Paid search traffic: Visits are only registered if there are active SEM campaigns or are part of the Google Ads search network, with cpc or ppc mediums.
Display: In this case, we record that the user arrived through a banner they found on the website.
Referral: Visits that arrive through another site that linked us (social media excluded).
Social media: Visits that arrive from our social network profiles like Facebook, Twitter, Instagram, etc.
Email: Users that arrive through links that appear in emails, with the medium=email.
Another publication: Sessions that are tagged with, for example, terms like cpc, ppc, cpm, cpv, as long as they are not part of a paid campaign.
(Other): Visits that don't correspond to any defined channel.
A UTM, What Does it Do?
The initials "UTM" mean Urchin Traffic Monitor. Urchin is the tool that Google bought in 2005 to create Google Analytics and that allows you to measure and calculate from where web page traffic originates.
UTM codes are the fragments of text that appear at the end of URL, specifically after the "?" sign.
When a user clicks on a link with a UTM, the parameters that we introduced in the code that is sent directly to Google Analytics so that the results show the exact number of obtained clicks.
This way, for example, we can know what campaigns or ads generated more traffic to a landing page and extract conclusions through Google Analytics channels.
Therefore, UTMs are used to create and understand the data sets that are needed at each moment depending on each project. This is how we obtain consistency in our information.
How to Create a UTM
To create a UTM, we have to add a series of parameters at the end of the link so that Google Analytics can correctly collect the information. We have to include:
Source
Medium
Campaign name
Content (optional)
Keyword (optional)
The result is an URL that will serve to tag a brand campaign in Google Adwords.
https://www.wearemarketing.com/es/?utm_source=GoogleAdwords&utm_medium=CPC&utm_campaign=marca
How to Name UTMs to Tag Campaigns
This can apply to many different uses. In this table, we see a proposed example of what information can be included in each section, although there are many ways to classify information with UTMs:
| | | | | | |
| --- | --- | --- | --- | --- | --- |
| Marketing Action | Source | Medium | Campaign | Content | GA Channel |
| Email | Name of the database to which the email is sent | email (in lowercase, so Google Analytics can identify it) | Campaign name | Optional | Email |
| Affiliates | URL of the domain or name of the affiliate | affiliate | Campaign name | Differentiate between product or service | Affiliates |
| Social Media (organic) | Social network on which it is published | cm | Campaign name | Optional | Social |
| Social Media (ads) | Social network | ads | Campaign name | Differentiate between product or service | Social Ads |
| Display | Web page where the banner is located | display | Campaign name | Optional | Display |
| Video | Web page where the banner is located | video | Campaign name | Title of the video | Depends on the medium |
| SMS | Name of the database to which the message is sent | sms | Campaign name | Optional | Direct |
| Whatsapp | Name of the database to which the message is sent | whatsapp | Campaign name | Optional | Direct |
Create Groups of Personalized Channels in Google Analytics
Above, we saw which channel groups are created by default by Google Analytics on the platform; although they can be modified, we have to keep in mind that if any error is committed when editing the predetermined channels there's a risk, from that moment, of having inaccuracies in our analytics.
However, it's possible that we would want to tag campaigns to see results in Google Analytics and there's no specific channel for those results. This happens with social ads, for example.
If a significant portion of our investment is intended for Facebook Ads or Instagram Ads, Google Analytics can complicate our data visualization.
To fix this, we can create Personalized Channels on Google Analytics and organize the results in the best possible way. We can create as many as we need and adapt data visualization to the reality of our campaigns.
We recommend ensuring that these personalized channels are created without modifying the default groups from Google Analytics.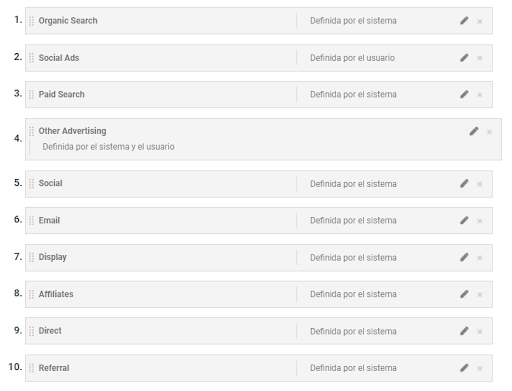 Data Studio: another Google tool for data visualization
If we want to go a step further in campaign result visualization, we can use Data Studio, a Google tool that allows us to create dashboards and personalized reports with the data that's extracted directly from Google's marketing tools and other external sources.
Data Studio goes one step further than Google Analytics in data visualization by allowing for a much greater level of personalization. And, in addition, we can import information from AdWords, Search Console, YouTube, or even Google Sheets.
Latest Updates from Google Analytics for Creating UTM Campaigns
A few days ago, Google announced that after 15 years with no UTM modifications, it will now be possible to configure three new UTMs in Google Analytics 4. These UTMs are:
utm_source_platform: to include information about the specific platform we're using. For example: Google Ads, Facebooks Ads, or Twitter Ads.
utm_creative_platform: to define the type of publication in which the link will be included: banner, video, Tiktok.
utm_marketing_tactic: focused on the type of action the campaign is handling. For example: brand awareness or conversiones, if it's local or national, if it's a specific offer, or more.
If you don't intend to integrate your ad platforms (like Google Ads) and Analytics, you can tag your URLs by hand to collect basic information. If, on the other hand, you want to dive into integrations, you can use the automatic tagging function, which works within Google's own platforms, like Google Ads.
As we've seen, tagging campaigns is a fundamental part of obtaining information about our actions and therefore being able to extract conclusions and introduce improvements. However, if we don't do it well, it's possible that we won't get the data we need or get partial or false data.
To make the most out of data and obtain business intelligence, we encourage you to get in touch with us to help you kickstart all these tools.