Los líderes en la disciplina de marketing digital de EE.UU. cierran la mayor jornada del año, The Inbounder World Nueva York, un evento de reunión, aprendizaje y networking que culmina con éxito.
The Inbounder World Tour lanzó este lunes mayo 22 en el Microsoft Technology Center, su tercera edición del Tour donde más de 160 profesionales del marketing digital acudieron a este evento para tomar nota de las mejores prácticas en este ámbito presentadas por los 9 ponentes, importantes personalidades de la industria del marketing digital.
Cada ponente presentó las mejores prácticas y compartió las últimas tendencias en su ámbito aportando a los presentes cantidad de información útil.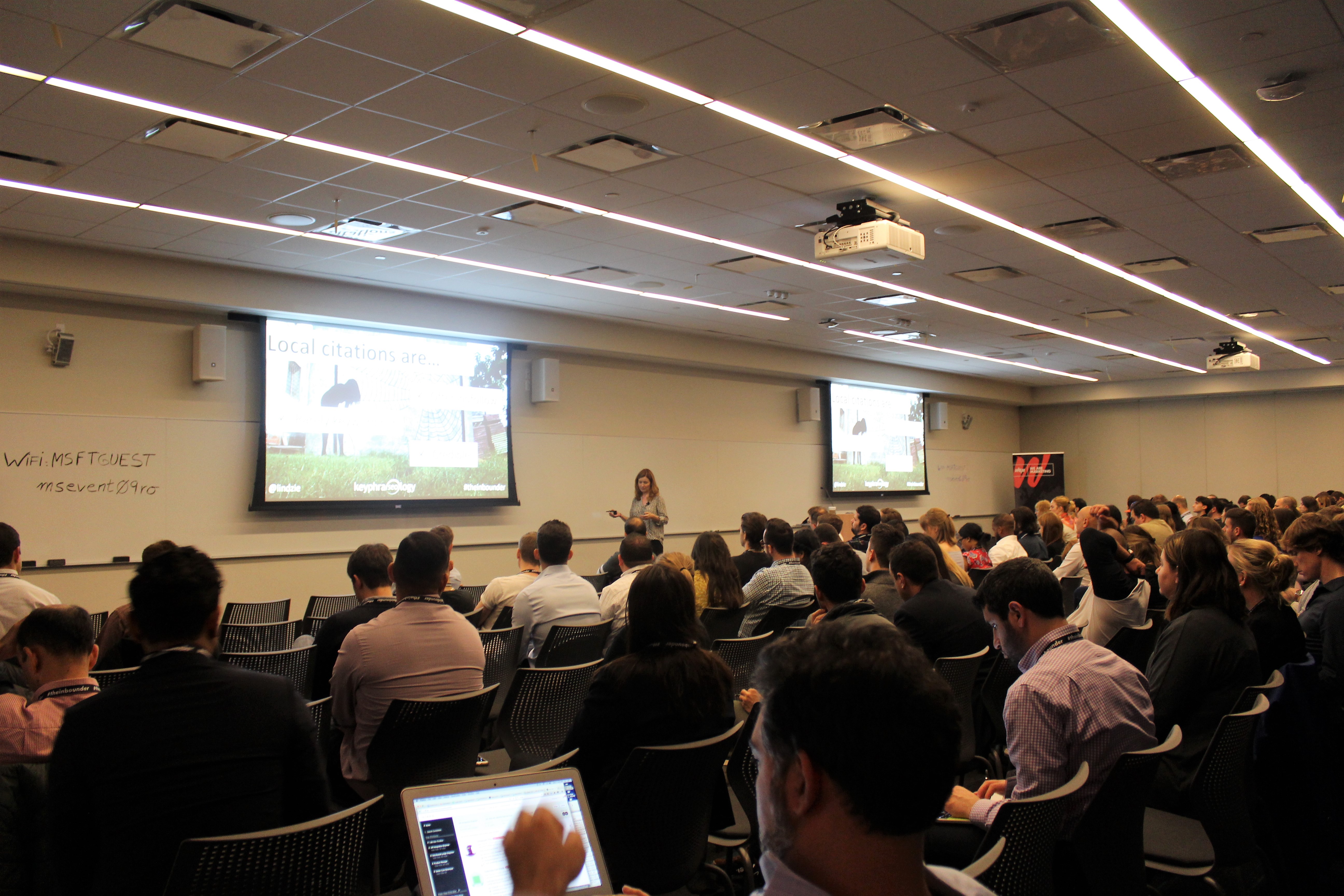 Si no pudiste estar presente en esta cita, aqui te presento un breve resumen de The Inbounder New York:
Cyrus Shepard, fundador of Fazillion introdujo a los ponentes, presentando a la primera ponente, Melanie Deziel, especialista y consultora en Branded content.
Melanie compartió sus consejos. Su ponencia la denominó "thinking like a journalist and how to use them to improve your content, recordando a los marketers y marcas que no solo son importantes en las noticias. Si realmente la empresa debe tener notoriedad, debe mostrar contenido de una forma más activa.
El siguiente ponente fue Mike King, el Director de iPullRank que rompió desde la base del conocimiento de las máquinas o el denominado "Machine Learning" para marketers dándonos a conocer cuál es el papel juegan los robots en la actualidad y en el futuro en esta industria.
CEO & Consultor de Marketing Digital de Keyphraseology, Lindsay Wassell compartió sus conocimientos en las búsquedas locales recordándonos que el SEO para una tienda física u online tiene muchas ventajas si lo aplicamos a nivel local.
Ricardo Tayar, fundador de Flat 101 y experto en UX habló sobre la analítica digital y la experiencia del usuario. Su principal argumento es que por mucho que tengas una interfaz bien diseñada no significa que se esté utilizando de forma correcta.
Los marketers deben entender el comportamiento de sus usuarios para poder medirlo con mayor exactitud.
La directora de Marquis Communications y Consultora de Manyminds Norte America, Lexi Mills, presentó tácticas de SEO en las relaciones públicas y trabajar con la inteligencia artificial con Online Filter Bubbles y cómo invitar a los periodistas how to a que escriba titulares dignos de recibir muchos clics.
Tom Critchlow es consultor estratégico independiente & anterior director de proyectos en Google. Él remarcó las diferentes características y procesos para poder construir un equipo de profesionales de contenidos óptimo.
El fundador de "The Inbounder," Gianluca Fiorelli, repasó cuáles son los últimos cambios que Google's está realizando recientemente y en los últimos años para que se pueda entender y predecir mejor qué es lo que va a ocurrir con la inteligencia artificial, chatbots, búsqueda por voz, imágenes y vídeo, localización y and geolocalización y big data, entre otros.
Purna Virji, Senior Training Manager del departamento de PPC para anuncios de Bing Ads PPC lideró una presentación extraordinaria donde expuso los beneficios del uso de robots en la experiencia del usuario y en su customer journey. Promulgó que éstos van a transformar el escenario del mundo digital en los próximos años. De hecho, según gartner, en el 2020 al menos el 30 % de las búsquedas no van a necesitar una gran pantalla, es decir, no a necesitar una landing page y éste va a ser hoy el mayor reto para los marketers.
Rand Fishkin, "The mago de Moz," cerró la jornada aportando ideas muy prácticas y aplicables para una estrategia de marketing exitosa usando diferentes ejemplos de otras marcas y mostrando ejemplos del uso y adecuación de diferentes canales para promoverlos.
Él mismo lo puso en práctica con un ejemplo: la petición de su mujer Geraldine DeRuiter, para promocionar su último libro "All Over the Place."
Si te has perdido The Inbounder New York no te preocupes porque la nave The Inbounder sigue su viaje y su próxima parada es en Milán el 15 de septiembre.
Consigue aquí tu ticket ahora y asegúrate el mejor precio con compra anticipada para poder traer a tus compañeros de equipo a un día increíble de aprendizaje y networking.