That the Marketing and Sales departments work with the same objective is fundamental to increase the profits of the company. In this post we explain 3 cases of companies that have implemented Smarketing, and we demonstrate how this technique has served to achieve the objectives of qualified leads and has improved their results..
Toni Gimeno Solans, co-founder and Chief Marketing Officer (CMO) of the recruiting firm Talent Clue, makes the importance of Smarketing very clear (sales + marketing) for companies, in an interesting article published in IEBS: "We must forget the old idea that the Marketing and Sales departments are different, because it's costing a lot of money to our companies. This union is important because really the objective of the two departments is the same: to win customers. Marketing will try to generate quality leads and Sales will be responsible for transforming them into customers".

Smarketing helps increase revenue if the company knows how to implement this Inbound Marketing technique. Maintaining constant communication through frequent meetings between both departments and following a work strategy aligned with the same objectives are essential requirements for the correct application of this methodology.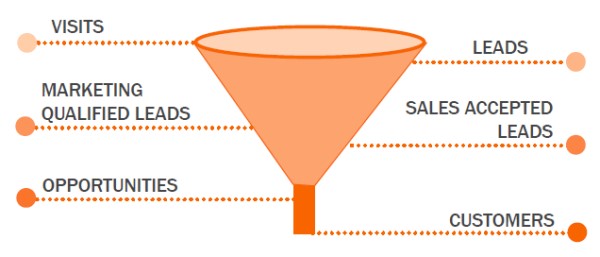 (Image: HubSpot)
Next, we explain 3 success stories of companies that have increased their sales and the generation of qualified leads (those who have already identified their needs and who could become potential customers). All this, thanks to a successful application of Smarketing:


1. Puerta Zama
In recent years, the number of real estate groups has increased in order to meet the demands of the market. The Mexican company Puerta Zama generate the expected results, and knew that it would have to reposition its marketing and sales strategy.

Using HubSpot, Puerta Zama carried out an Inbound Marketing strategy, and analyzed its metrics to see how its sales generation goals evolved.

It also looked at total website traffic, conversion rates, pages visited by each lead, time and frequency of navigation, number of email opened and which external sources provided quality traffic.

The company wanted to make sure the Marketing department's efforts were filling the Sales funnel with enough qualified leads to increase its revenue, so it established regular meetings between the two departments to share information and set common goals.

In order to close more sales, Puerta Zama needed to invest its time and resources in tracking strategies only with previously qualified, interested and informed leads, and not with any of the old contacts in its database.

With this strategy of Smarketing, advised by Play Pro, the company increased its organic traffic by more than 300% and increased the number of qualified lead generation by 1100%.


2. Lego
Another case of success of innovation in online marketing through Smarketing is the Danish toy company Lego. Since the company registered its first patent in 1958, it has undertaken different strategies, not all successful ones. The firm almost closed in 2004.

Lego undertook a necessary strategic reorientation, returning to the origins of the brand and rescuing the products that had more acceptance among its customers. Previously, he invested in the implementation of Smarketing with a market research strategy, directing its Marketing and Sales teams to work towards a common goal: to know what consumers want and what satisfies them.

This strategy led Lego to increase its sales in 2014, overtaking its main competitor, Mattel, and returning to position itself as the first toy brand in the world. In 2016, Lego recorded sales of DKK 37,934 million (about $ 5.820 million) at the close of its fiscal year. This figure represents 6% more than in the previous year and a new record of turnover in the 85 years of history of the company.
In addition to increasing sales, the brand has managed to connect much more firmly with its consumers, using new marketing channels, such as social networks.

Lego has not only harvested a large number of followers and shares, but above all is very successful in creating a community. What matters to the company is not so much the generic figures, but how these figures have translated into communication and response by their followers.


3. Texaco
Finally, we are going to explain the case of success in Smarketing by the company of oil products and services Texaco. This group, with more than 100 years of activity, saw a growth opportunity in its subsidiary in Brazil.

The year 2016 was complicated for the Brazilian economy, and for all the companies in general of that country. Texaco Brasil decided to undertake a change of strategy and modify its traditional marketing and sales structures.
The company was looking for new ways to increase sales of its Havoline product line. He worked on marketing strategies to increase the generation of leads and opportunities for his authorized distributors. And, consequently, increase the number of sales.

After carrying out a customized content and value added strategy for their target audience, they used Lead Scoring to filter which of the generated leads were actually qualified, in order to facilitate the work to the Sales department.
From there, Texaco rethought the operation of its CRM (Customer Relationship Management) to measure the activities and the qualification status of the leads, and facilitated the communication between the Marketing and Sales departments.

After implementing this formula, between August and November of 2016 Texaco's web traffic increased more than 90% and the average monthly number of leads grew 30%. With these numbers, the company exceeded the overall goal of converting opportunities for sales.

These 3 success stories show us the importance of implementing Smarketing in your company. Don't hesitate! It will help you increase your income.