Brand experiences are a trend on the rise, as we were able to witness at the 2019 edition of the Cannes Lions Festival of Creativity. The union of creativity and strategy will let us create these one-of-a-kind moments with the consumer in every touchpoint.
The Cannes Lions Festival wrapped up its 66th edition last week with a prominent presence from consulting firms, and creative and branding agencies focused on creating brand experiences that go beyond screens and traditional points of sale.
This year we confirmed that the boundaries separating agencies and consulting firms are starting to get erased. Creativity and strategy go hand-in-hand to create campaigns that truly touch their target audience.
This way, we see how some of the consulting firms have presented themselves at Cannes this year have doubled the number of case studies they submitted compared to the previous year. And while they have yet to achieve the same amount of accolades, they are gradually starting to gain footing.
Another one of the trends to come out of the 2019 Cannes Lions are the brand experiences designed to connect to consumers on an emotional level. Customers are now looking for brands with a personality that offer them something more than merely sales-y messaging. Instead, they're looking for brands that tell a story to connect with, to get excited about, and to feel. They want a brand that provides them with a distinct, one-of-a-kind experience.
How can we craft brand experiences for our customers?
Strategy and creativity, as I previously mentioned, are imperative for achieving this objective. Strategy lets us have enough knowledge of the consumer to make them fall in love with our brand. We analyze their interests, detect what components of our service or business they like best, what details make them feel comfortable, what is most important in their lives, and as a result, we trace the appropriate roadmap leading to their heart.
A Buyer Persona analysis should also be the jumping-off point for any creative initiative. Without this information, it's much more difficult for us to create experiences genuinely capable of connecting with the consumer. If we're looking to get them excited, we have to find out what makes them move.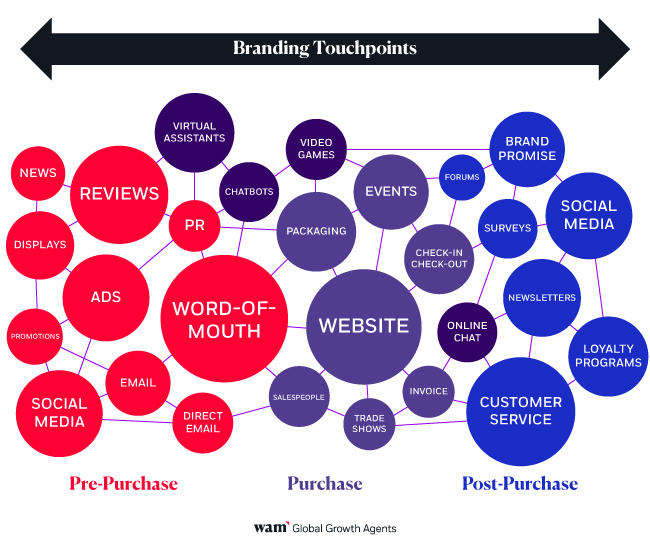 Once we have this base, it's time for creativity and branding to come into the picture. The consumer connects with the brand through other aspects instead of prices or product components. As the tone-of-voice or the type of messages we deploy at different touchpoints we have with the customer are gaining importance, a branding project goes beyond visual assets or the logo. These aspects will also be critical when it's time to interact with users when interacting with virtual assistants, where we'll only have the tone-of-voice and messages to make our brand have value and create a differentiating experience.
Branding: a key ingredient
It's also we create a collective experience for the whole brand, meaning that there needs to be a homogeneous, coherent interaction across all consumer touchpoints. Today, through CRM software, we can guide the customer before, during, and after their purchase. Individually working on each of these moments will help you create this bond with the customer and even turn them into a loyal customer.
It's not enough to create experiences that make consumers "fall in love" and end up buying the product or service we offer. Every detail counts and that's why it's critical we also take care of them during and after they buy. A customer that enjoys the purchasing process, and has customer service at their disposal will have more chances to talk positively about that brand, recommending it to others, and making repeat purchases. This is what every business wants.
That's why it's critical we think of brands that encompass everything and carry out 360° strategies where we consider every touchpoint in every channel to create a seamless experience of connecting with consumers.
As we saw at Cannes, this trend will continue to gain strength and will become a requirement for brands in the short-term. Consumers are demanding it, making it fundamental for any business.