The rules of the game for B2B Marketing don't have anything to do with those of B2C. Do you want to catch up? In this article, we'll tell you which challenges to overcome as well as the strategies and tools that can help you.
With B2B Digital Marketing (business to business), we face a target with very concrete buying habits, much longer sales cycles, and very specific needs. This means that our marketing strategies will have to adapt to different rules.
B2B Marketing: main characteristics
As we said at the beginning, B2B means business to business. This means it pursues the sale of products and services between companies instead of directly to the consumer, like what happens with B2C marketing (business to consumer).
But, what does this really mean? There are many definitions that explain it, but let's use this one from Salesforce: B2B marketing is a business practice in which a business commercializes its products or services to possible buyers. B2B marketing differs from B2C in that instead of focusing on individual consumers, it focuses solely on other companies.
Because it's directed at companies, B2B digital marketing strategies present a series of different traits:
Buying motivation: companies are motivated by objective factors such as profitability or productivity.

Target: a B2B public is more niche and is very focused, which is why it's harder to reach.

Approach: to convince the B2B public to buy, you must use a deep and detailed approach that highlights the usefulness and advantages of the product or service.

Buying cycle: the sales process is longer and on a larger scale, given that the buying decision for companies is more premeditated.
Challenges for B2B Marketing teams
Marketing for businesses presents a series of peculiarities that transform into challenges for the team that is tasked with it.
1. Generating quality leads
Quality over quantity is the main rule in B2B lead acquisition. Knowing your audience well and creating personalized campaigns that directly connect to them is key to achieving it. This will allow you to build solid relationships and establish an effective channel of communication with your target audience.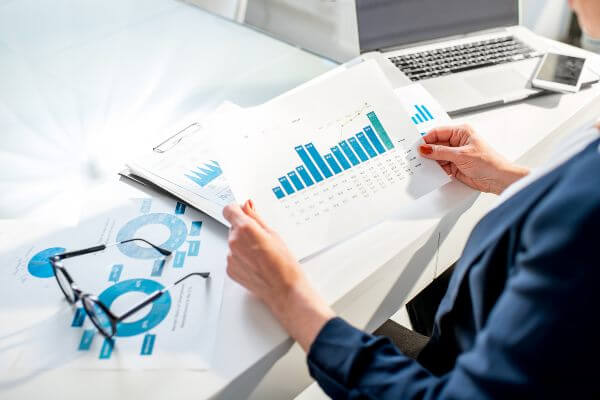 2. Calculate the ROI of your marketing actions
All marketing teams dedicate a lot of time to showing the actions they are carrying out are offering the desired results and that, in addition, they have a positive impact on the company (return on investment). It's not an easy task, given that you must collect data, interpret it, and make decisions that steer us in the right direction.
Using the right tools and integrating all information is crucial to obtaining quality data, interpreting it, and then responding to the company's key questions.
Tableau, for example, is an analytics platform that allows for the unification of marketing data in just one platform and analyzes it to obtain valuable and processable information. Tableau dashboards help marketing teams make decisions based on evidence and calculate the ROI of their investments.
3. Align the work of marketing and sales
Marketing and sales departments are working together more and more, given that when they are aligned, business performance improves, the amount of revenue in the company increases, and the customer experience is much more satisfactory.
The marketing team must support the sales team in the different phases of the buying cycle with the goal of acquiring more leads that buy the product or service at the end of the path. As the buying processes become more complicated, the collaboration between both parts becomes even more important.
4. Integrating the right technology into the processes
Having the right tools can make all the difference; in fact, in this article, we'll see the important role that technology plays in B2B marketing. However, we must also remember that having the wrong software or implementing it incorrectly can be a costly error.
To avoid problems, it's important to dedicate time to researching and, above all, use advice from professionals that know the solutions that exist in the market and know how to detect which adapts best to the specific needs of the company. In addition, they can lead its implementation to achieve an optimal functioning of the tool and ensure the entire team is capable of confidently using it.

B2B Marketing Strategy: Inbound + ABM
When it comes to planning a B2B marketing strategy, we must apply a Marketing 360º vision and use at least two fundamental methods. We're talking about Inbound Marketing and Account-Based Marketing (ABM).
Inbound Marketing provides content that attracts and engages a large number of users; ABM makes marketing and sales work together to select and propose specific actions that help to capture potential clients that are highly interested at a business level.
To keep exploring the function of each, Inbound creates content to wake the interest of a user, nurture it, and, finally, convert them into a client and advocate. On the other hand, ABM is much more specific. Actions are directed to high value, previously identified clients and offer them highly personalized content.
To understand: it's like going fishing in a place where there's a ton of fish, even some that we don't want (inbound), and using bait to focus exclusively on the ones that interest us (ABM).
Why must we use both in a B2B digital marketing strategy? If we simply apply inbound marketing, we could be letting great opportunities pass by because we aren't paying enough attention to the most valuable leads. And, on the other hand, if we only work with ABM, we are losing the chance to generate another type of user that could have the potential to become a good lead.
Therefore, we must work with both methodologies at the same time. Both complement each other, given that Inbound Marketing feeds into the ABM funnel.
Marketing and technology at the service of B2B
To carry out B2B digital marketing, we need the right tools. It would be impossible to realize an inbound marketing strategy without having a marketing automation platform or launch an ABM campaign to a high value account without a CRM.
Marketing Automation
Orchestrating all the marketing actions in each part of the funnel is practically impossible if we don't have the help of technology. That's why we have Marketing Automation, which consists of using software to automate marketing actions. It's especially useful for nurturing content for leads that still aren't prepared to buy and convince them, little by little.
Marketing Automation Advantages?
Specialized content

Lead interaction

Time saved

Result control
CRM
The capacity to handle, analyze, focus, and use the data correctly has also become a fundamental tool. In marketing, this information allows us to find out what content is most effective in each step of the sales cycle, how we can improve investments in client relationship management systems, etc.
Therefore, a CRM allows us to register each step of the interaction with the consumers in different channels and obtain detailed information about their purchase history, personal information, and even behavioral patterns.
This improves customer service, helps to retain clients, improves sales, increases transparency, etc.
Integration Software
With so many points to connect and tools to use, it is fundamental to have a system like Mulesoft: it's an integration software system that looks to connect all systems to guarantee the exchange and use of all the company's data.
This allows companies to be more efficient, maximize their resources, and save money both medium and long term.
As you can see, B2B digital marketing requires the orchestration of a series of very complex methodologies, strategies, actions, and tools. That's why we always recommend the help and advice of experts with experience in the B2B market that offer an initial consultation to review business goals.