Companies increasingly invest more in digital marketing as a successful formula to reach the consumer. In this post, we talk about the latest trends in this industry and we highlight why you should attend one of the most important events in the world.
Traditional advertising techniques have become obsolete and it's become clear that brands are investing more in digital marketing. This area increasingly occupies a larger space in company budgets. Currently, investment in digital marketing grows at an annual rate of 11%, and it will continue to increase. According to a study by Forrester, in 2021, investment in online marketing will reach 120,000 million dollars in the US market alone.

To give just a few examples, among the trends that are booming are online video highlights. Since 2014, investment in this tool has increased by 114%, and will continue to grow above the industry average in the coming years. Companies around the world will also bet on better techniques in SEO, specifically, they will invest 72,000 million in 2018. And another important trend revolves around content marketing: according to a report by Demand Gen Report, almost half of consumers consult between three and five different forms of content before purchasing something.
With this ever-changing digital landscape, companies must be aware of new trends in digital marketing if they want to grow their businesses and stay ahead of their competitors.


One of the ways to stay up to date on the latest in digital marketing is to attend conferences or specialised events in this industry. One of them, considered as the must-attend digital marketing event in Europe, is The Inbounder Global Conference. After the success of the first edition, which took place in the City of Arts and Sciences of Valencia and attended by more than 1,000 professionals from 25 different countries, The Inbounder returns stronger than ever, this time to the Palacio Municipal de Congresos in Madrid, on 25 and 26 April 2018.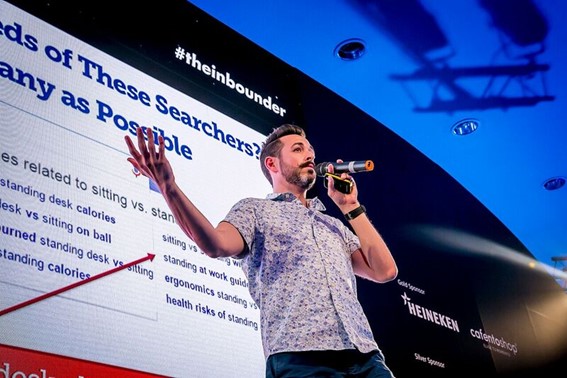 Image: Rand Fishkin, during his presentation at The Inbounder Global Conference 2016

The Inbounder Global Conference 2018 will bring together the best experts worldwide to discuss the latest in SEO, Social Media, Branding, Content Marketing, Mobile Marketing, Analytics or CRO, among other areas.
Among the keynote speakers that will be at The Inbounder include Rand Fishkin, Cofounder of Moz; Jono Alderson, Principal Consultant at Distilled; Melanie Deziel, Branded Content Consultant and Founder of Overleap League; Aleyda Solis, International SEO Consultant and Founder of Orainti; Talia Wolf, Founder & Chief Optimizer at GetUplift, Alba Vargas, Head of Scalability at We Are Marketing; Daryn Smith, CMO at We Are Marketing, and Gianluca Fiorelli, Strategic SEO Consultant and co-founder of The Inbounder.

At this event you can learn the most advanced ideas, strategies and techniques in digital marketing of the present and future. In addition, you can take advantage of the networking opportunities to personally meet the speakers and other attendees, so you can exchange ideas and enrich your experience.