If you're thinking about investing in an SEM campaign for your company, take note of how to create one and arrive directly to your potential customer base.
Letting yourself get known online and reaching the audience that is genuinely interested in your product or service requires a digital marketing strategy and patience- a lot of patience. If you want to speed up this process by attracting a large number of users, our recommendation as an agency with expertise in Google Ads is to create a display campaign.
But first, what is Google Ads?
Google Ads, previously known as AdWords, is Google's pay-per-click (PPC) platform for including advertisements within search results or the ad space on affiliated websites like YouTube or Gmail. We're going to focus on how to create your first display campaign in the areas as mentioned above.
Why should you advertise here? It's the world's most extensive display advertising network as it includes all the websites affiliated with Google like YouTube, Gmail, and Blogger-supported blogs. The Google network reaches 90% of all internet users worldwide. Not only that; it earns 180 million ad impressions on a monthly basis.
Is activating a Google Ads campaign of interest to me?
Creating a display campaign in Google Ads can interest you if:
You want to reach an audience that has demonstrated an express interest in your product or industry.
You want your ads to show up in many places, including blogs and YouTube videos.
You are interested in deploying interactive ads remarkably apt for attraction; Google Display can help you do so.
Google Display ads will let you:
Increase your brand's visibility.
Direct traffic to your website.
Accelerate your purchasing process.
Boost your product or service's sales.
The common denominator for all this is an effective campaign that helps you optimize your investment, but we'll talk about that later on.
What types of ads are there?

You can publish different types of ads within the display network depending on your brand's needs. The primary formats that can go in various sizes are the following:
Text
Picture
Video
Rich Media: a mixture of images, text, or videos.
When do the ads show up?
You can show your ads to users on the Google display network before they start looking for your product, something that helps capture the consumer's attention in the earliest stage of the purchase cycle.
Another option is that you remind them of a product they have looked for on your website using remarketing. This technique lets you reconnect with users that already know you and drive their interest once again.
Things to keep in mind when it comes to display ads on Google Ads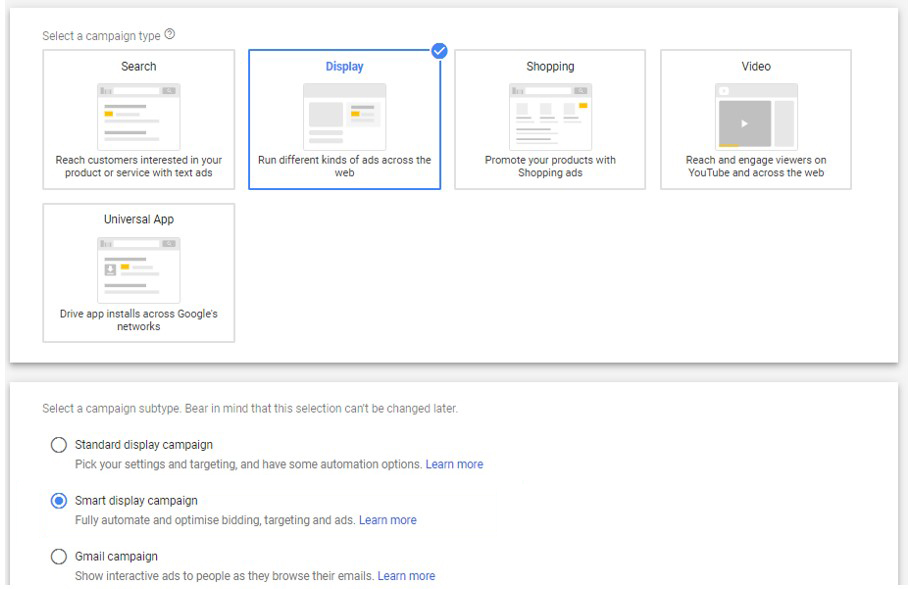 The keywords determine your ads' location along with related content. It's also interesting to make a list of negative keywords and add them to your campaign to make sure your ads don't show up in campaigns related to those terms.
These ads show up on websites related to the themes chosen in the campaign settings and only on the sites that belong to the display network.
Once you set your interests, the ads will show for relevant users with a set list of categories of interests based on their search and browsing history.
These ads show for tagged users that have visited pages on a website (public lists created based on remarketing codes).
The ads can get segmented to different users based on their gender and age range.
A step-by-step guide to creating your first display campaign
Once you've decided to create a campaign, the first thing you have to do is create your corporate Google Ads account. From there, you can get started. If you choose, you can follow my instructions using this video:
Besides the video, I leave you with a brief step-by-step guide for creating your campaign:
Planning: Why do I want to create an ads campaign? How much budget do I have? Identify if you're interested in clicks, sales, the time users spend on the website, earning leads, subscriptions to a newsletter, and so on.
Searching and setting up your target audience: Where are my customers? Where do they connect from? What do they like? What websites do they visit? How often? Define all these aspects to reach your audience.
Design: What ad format is the most appropriate for my campaign? What message or purpose do I want to communicate? To what landing page do I want to redirect them? It's imperative to consider that more and more users access using their mobile devices, so it's just about mandatory to opt for a responsive design. Google Ads lets you segment by devices.
Frequency limit: It's critical you limit the frequency that your users can see your display remarketing campaigns; doing this lets you ensure that the campaign does not get annoying and coherently shows your advertising message.
Programming the publication of your campaign: When to publish the campaign? Choose the period where your ads get shown
Measuring the achieved impact: Did I earn ROI? What kind? Post-click and post-impression clicks? To complete this measurement, we need to install a conversion tracker using code that tends to be on the "Thank you for your purchase" page and will allow Google Ads to account it for it.
Campaign optimization: What components can I improve? Above all, you need to pay attention to how our ads perform in specific locations to exclude them or choose them to optimize better the ads displayed in these locations.
As you can see, display campaigns are specially designed to improve your branding. Include them in your digital marketing strategy and get the most out of its possibilities.