Web design is just as important for fashion industry websites as design and style in the retail industry. Implementing optimal web design for fashion brands can incite loyalty, trust, and security for users.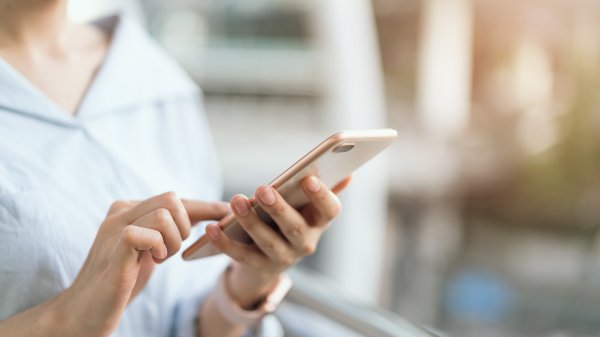 The importance of creativity in retail is an unquestionable reality. We can see its crucial role when talking about the digital space, especially on websites in the fashion industry, whether brands, blogs, magazines, and more. Many experts agree that fashion web page design focuses on video and photography since they're pivotal in showing products the way we want and stipulate in our marketing strategy.
Applying techniques that reward our sitemap and make it easier to browse are necessary steps but don't suffice. The backbone of the content is visual, making web design an area where brands must try things out.

The COVID-19 pandemic and consumer behavior changes stemming from it have led retail brands to put their digitization efforts into overdrive. The recently-created Retail Observatory in Spain (Observatorio de Retail en España) found the pandemic accelerated many brands' Digital Transformation initiatives in light of the growth in e-commerce as a percentage of total sales.
Ignacio Sánchez, formerly the CEO of Leroy Merlin Spain and now the CEO of Leroy Merlin Brazil, declared that the post-COVID consumer is definitely digital, wants hyper-availability ("I want it all right now"), personalized messaging, and satisfaction with the brand. Should you not deliver, you can see your brand suffer attacks on social media. Your website is a brand's cover letter to digital consumers, and if you don't have a compelling retail web design, the door will close swiftly.
8 fashion web design best practices
What are some winning tactics when considering bespoke fashion e-commerce web design solutions? Here are some components the top fashion websites have in their bespoke design:
Simple, intuitive interface.

A completely independent mobile version that restricts content incompatible with web browsers.

If the website has its soundtrack, the moving images and music move with the right synchronization.

High-quality interactive experience.

Big, high-quality photos that serve as the primary way of attracting potential customers.

Video that perfectly integrates into the product design.

Integrated e-commerce combining sales and User Experience (UX) principles.

Multimedia that doesn't slow down the loading speed on mobile devices.
The importance of web design lies in this: if a brand doesn't have an excellent online presence, they'll lose a significant amount of their market share and make way for its competitors. Retail brands (makeup, clothing, accessories, jewellery, etc.) need to pay special attention because design reigns supreme in this space.
Brands target a susceptible market where consumers often buy based on their attraction to a particular product that meets their tastes and preferences. A website's aesthetic can influence many users' purchasing decisions, motivating experts to bet on high-quality product images to make their fashion web page design shine.
Retail web design's role in the shopping experience
We can't lose sight of a retail website's primary goal, driving online product purchases. That's why your web design has to be on the same wavelength and create optimal experiences. It should have a visible shopping cart and a filtered search option that can lead shoppers to what they want while offering a seamless browsing experience.
Cross-selling is another crucial component. As you gather customer data upon purchase, you can recommend them with other products they make like. Adding a "last-seen" section that lets them recall their previously-seen items is an excellent way to remind them what they considered buying and perhaps lead them towards finally buying it.

The top fashion websites
The best way to determine if your fashion web page design is successful is through real-life examples. I've chosen some sites with interesting final products and surprising solutions that can guide you in making improvements or serve as e-commerce best practices: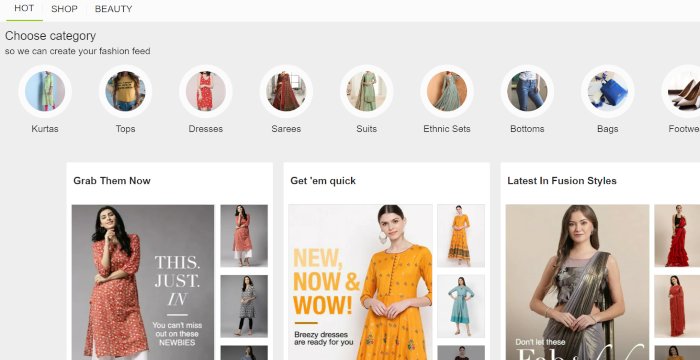 This Indian clothing brand has a filter on their homepage, similar to Instagram Story highlights to denote the categories that interest you most. The interface focuses on fostering a community since users can create scrapbooks with their favorite looks and share them. The website shows them as if it were an Instagram feed, serving you with the things you previously found enjoyable.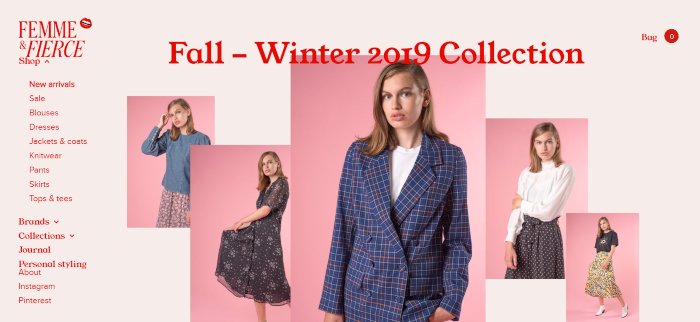 The website for Dutch clothing brand Femme & Fierce stands out for its sleek design with red and pink as the dominant color palette, and the transitions and little details you discover as you scroll. There are short animations in the shape of lipsticks, lollipops, arrows, and lips all over the site that show you the products and create a more exciting browsing experience. It's a unique design feature with impeccable construction.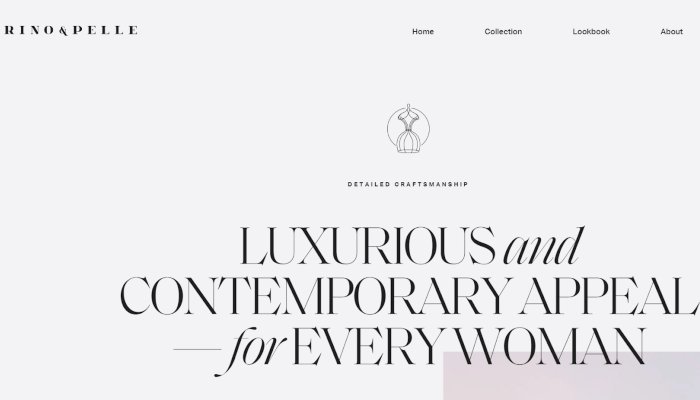 Rino & Pelle emphasizes minimalist design while playing with sizes as you browse. The simple homepage that initially gives copy a starring role makes way to high-quality images with the same color story. There are small visual tricks like a moment where the scroll becomes a zoom that moves away from the pictures to maintain users' focus. It does all this with a well-curated design.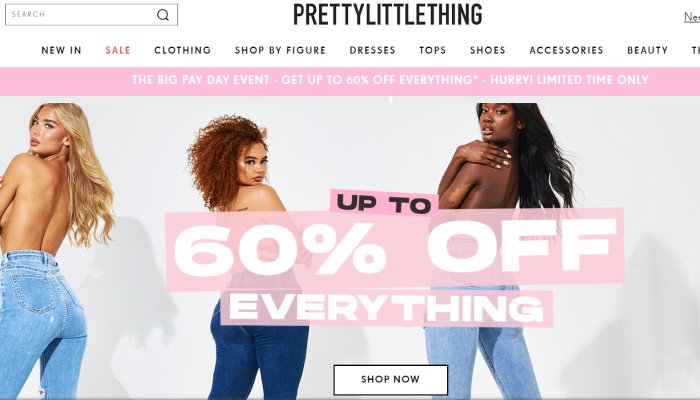 This design is simple but effective. You get information about discounts and promotional offers as soon as you get to the homepage while signaling the time-sensitivity of the details with the "Hurry! Limited time only test). There's a shopping bag easily within reach and a smooth white and pink color palette that correlates with femininity references.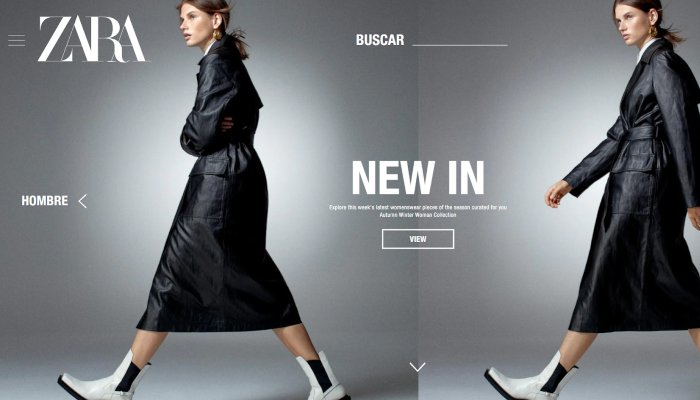 Zara is always a referential retail giant, and the same goes for its web design. Its commitment to a straightforward, minimalist design gives all the stardom to high-quality images. It doesn't want to throw you with the catalog but instead offers a search bar to provide you with a more independent browsing experience. It also lets you play with it as you scroll and discover every section on the sitemap.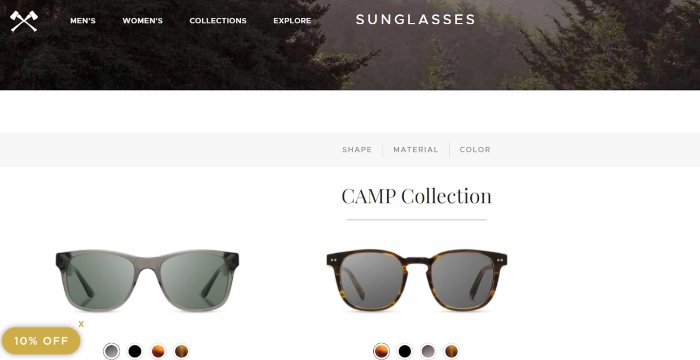 Shwood Eyewear has one of the best sites in the eyewear e-commerce space. It has very well-defined filters (shape, colors, material, men/women) with a clean design. The site lets you see every product in all available colorways with a subtle reminder of active promotions on the left side. The browsing experience is a delightful one.
The fashion web design process we discussed must also consider the programmer's subsequent work and the user experience because a website isn't just up to the designer:
What does a fashion website need? The role of web programming and web development
Collaboration between web developers and programmers lets designers create the perfect web architecture with a functional, intuitive user interface for fashion websites.
It's especially useful (and fundamental) to have a responsive web design that automatically adapts to a screen's size in this era with mobile devices (smartphones, tablets, etc.) as the dominant device format. An unresponsive web won't load properly on these devices, leading to a poor user experience that can reverberate in your sales figures and online reputation.
This pairing found the winning formula with mobile apps, which are sites designed specifically for smartphones and mobile devices that serve their audience with interactive, mobile content that may not require an internet connection to share content with users. They also offer more comfortable and faster browsing than a traditional website. Having their native app makes it easier for brands to find new users through the Apple and Google Play app stores, where a plethora of prospects are looking for new apps to download on their devices.
Technological advances allow fashion brands, designers, programmers, and developers to develop a brand image that improves their positioning and reputation. Let's not forget that a webpage can't happen in a silo away from the rest of the enterprise; instead, it must seamlessly integrate into an integrated 360° marketing strategy. The goal is to maintain a coherent message across channels on the web and social media, Paid Media campaigns and tactics, apps, email marketing, influencer marketing, and more. Your website is just one cog in a much larger strategy, but that doesn't mean you shouldn't take care of it. If you do, you'll see positive results.