Salesforce Inbox allows you to integrate daily work with email and CRM, so that relevant communication will be categorised as opportunities, leads and/or contacts.
Salesforce Inbox helps you optimise your time, so you can reduce your workload and focus on making sales.It achieves this by linking your email with the Salesforce CRM (Sales Cloud and Service Cloud), thereby speeding up repetitive tasks like updating data in the CRM, meeting planning and responding to emails.

This allows the sales team to operate agilely from the mailing list and focus on what really matters: connecting with customers, following leads and, ultimately, selling more.

Salesforce IQ Inbox or Salesforce Inbox
In its beginnings, the relational intelligence used by the application belonged to the startup RelateIQ, which was acquired by Salesforce in July 2014 for its their technology's potential application to CRM. From that point, the startup has developed products under the brand SalesforceIQ. While the application goes by both names, Salesforce Inbox is more common.

Salesforce Inbox is available for Gmail (with Chrome extension) and Outlook, both Exchange and Office 365.

Key Features of Salesforce Inbox
Activity Register: update CRM from email

When sending an email, Salesforce Inbox will ask you for its purpose, whether you want to include the attachment, or if it's an email process that you don't want to link to Salesforce. You can also link received emails to opportunities and accounts, or companies and contacts.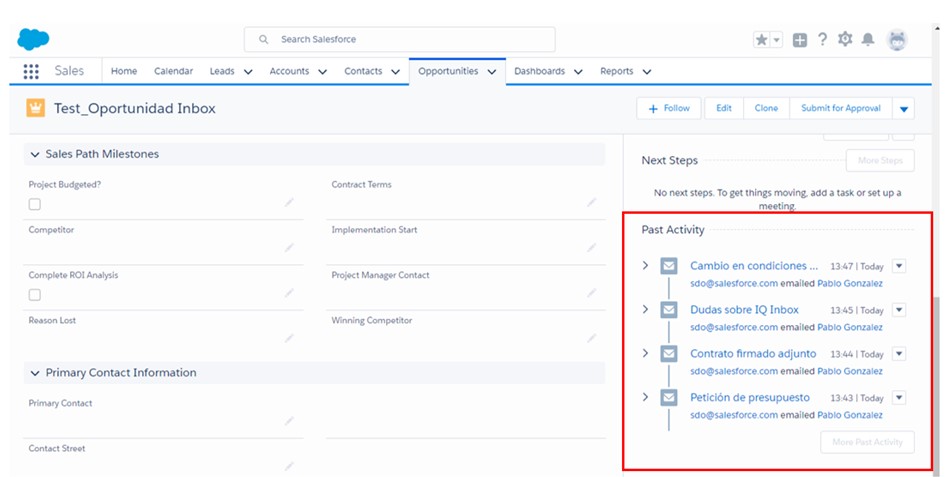 Additionally, you can create new leads, contacts and opportunities directly from your Outlook or Gmail inbox, as well as register emails to sales clouds.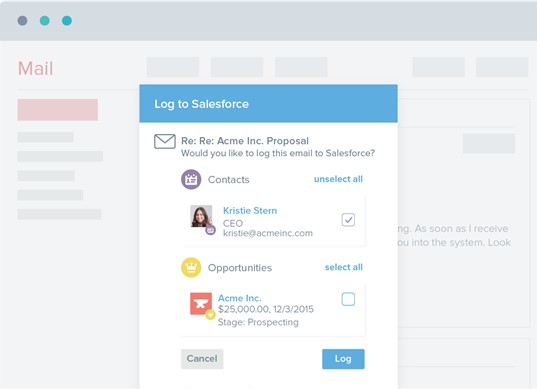 - Email templates
With Salesforce IQ Inbox, you can use Salesforce templates when writing emails. Email templates are presented in both text and HTML. This means you can respond to emails as soon as possible. You can also prepare answers for common queries and FAQs (Frequently Asked Questions).

Salesforce Inbox also allows you to send emails with the option "Send later", so the customer receives your mail when they're most likely to read it. You can delay the sending by several hours, or program it for a certain day and time.

- Easy meeting planning
With Salesforce Inbox, email and calendar are synchronized. This makes organising meetings easier, as you can add your availability to an email proposing several possible meeting times. Once the client accepts a time slot, the meeting will be added to your calendar automatically.

- Smart notifications
Salesforce Inbox uses relational intelligence to analyse correspondence, track all agreements and alert you with smart reminders if you need to track a certain email. For example, you can create a task in Salesforce if an email has not been answered in a week.

- Confirmation of opening
One of the most useful features of the application is its reading confirmation: you can receive a notification when your email is opened by the recipient.

- Mobile app
There are versions of the app for both iOS and Android. This way, you can enjoy the same functionality as the desktop versions from your smartphone.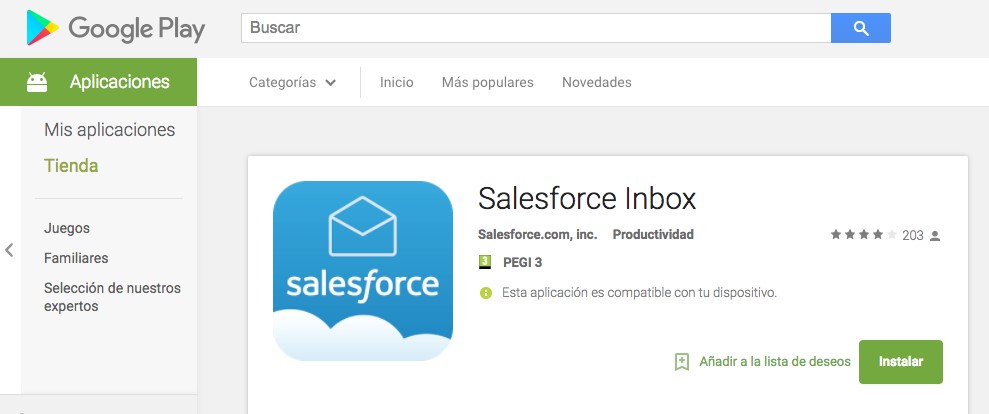 Conclusion
Working with Salesforce Inbox allows us to streamline our day-to-day work directly from the mailing list, so we can give designated teams better visibility into any correspondence with leads.

It also offers us tools that facilitate our daily work, such confirming that an email has been read, creating automatic tasks if a customer doesn't respond, or making it easy to use previously configured templates.

Highlights:
Salesforce email and link registration.
Create new leads, contacts, opportunities and tasks directly from your mailing list to Salesforce.
Access calendar to view and add meetings and events directly.
Manage existing daily tasks in Salesforce.
Create tasks if there is no response to email.
Synchronization with Salesforce contacts.
Send files from Salesforce, Google Drive or Dropbox without leaving the inbox.
​​​​In summary, Salesforce Inbox is an excellent complement to increase the effectiveness of our marketing and sales team in the Salesforce CRM.

-----------------------------------------------------------------------
You can also read this blog post in Spanish on the We Are Marketing blog.