What is Salesforce Marketing Cloud? If you've ever asked yourself that question and not found the answer, we have all the information you need in this article.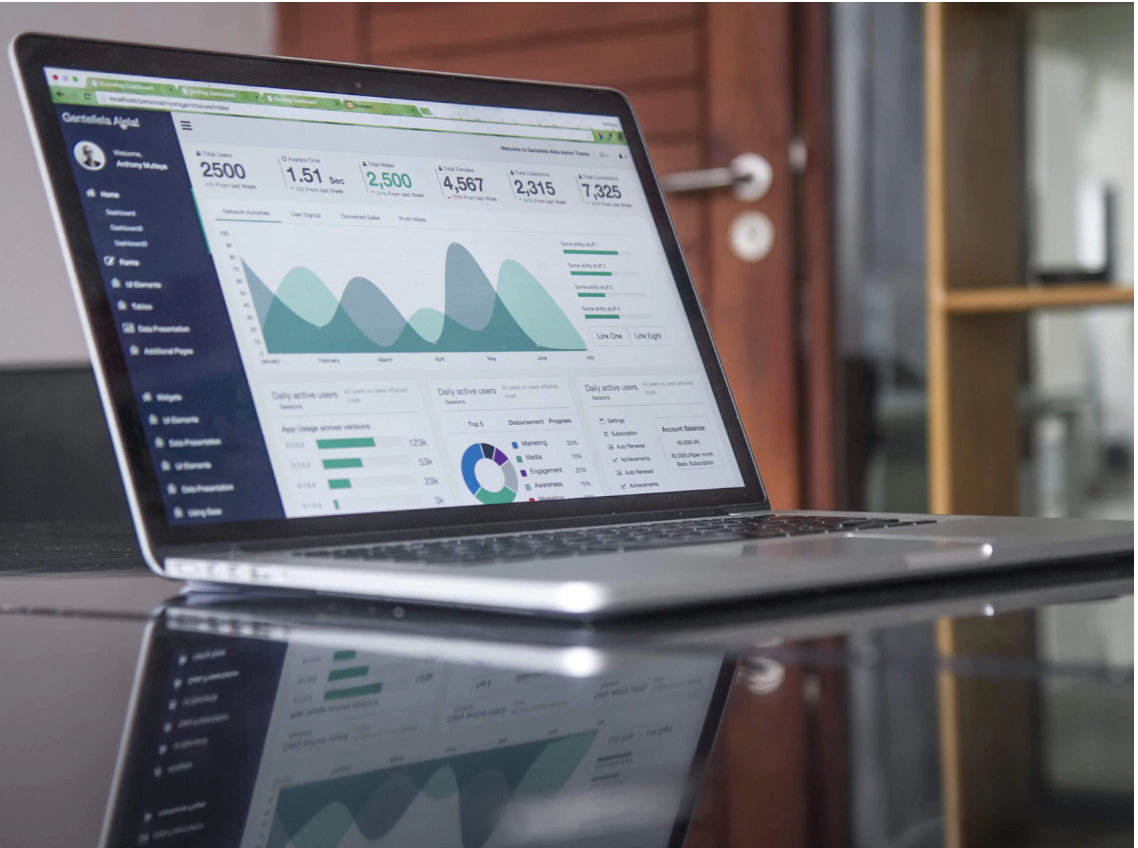 Many professionals are now wondering what Salesforce Marketing Cloud is due to its increasing ubiquity and the numerous possibilities it affords you. Since we are Salesforce partners, we decided to put together some of the most frequently-asked Marketing Cloud questions and their definitive answers for those of you less familiar with it.
What is Salesforce?
But first, we have to talk about Salesforce, the multinational tech giant behind Marketing Cloud. They define themselves like this:
Salesforce is a customer relationship management solution that brings companies and customers together. It's one integrated CRM platform that gives all your departments — including marketing, sales, commerce, and service — a single, shared view of every customer.
We like to say it's one of the most comprehensive business software platforms out there on the market. Thanks to Salesforce, we can have a better understanding of our buyer persona. We can find out how they came to us, decide how and where we should communicate with them through multiple touchpoints, make them loyal to boost sales, and offer them a high-quality customer experience.
Since the project started in San Francisco in 1999, the company hasn't stopped growing and evolving. It's gone from being a CRM service to a cloud-based platform that connects every customer touchpoint to create a personalized, one-of-a-kind brand experience. That's how more than 150,000 companies currently use Salesforce in their business operations.
What is Salesforce Marketing Cloud?
We can find different Clouds, or modules, within Salesforce directed to different business areas for sales, marketing, customer service, and more.
This time around, we're going to talk about Salesforce Marketing Cloud, the Salesforce solution for Marketing teams looking to improve their customers' experience and boost their sales.
So what is Marketing Cloud? It's a marketing platform that has multiple tools that are designed to efficiently manage a brand's interaction with its current (and potential) customers across various channels.
The technology powering the tool allows us to more effectively and efficiently manage marketing activities. The platform lets them create multichannel experiences, contact customers on the right channel, at the right time (email, SMS, push notifications, social ads, etc.), and increase customer acquisition and sales. Marketing Cloud makes it easier than ever to plan, monitor, analyze, and make decisions in real-time.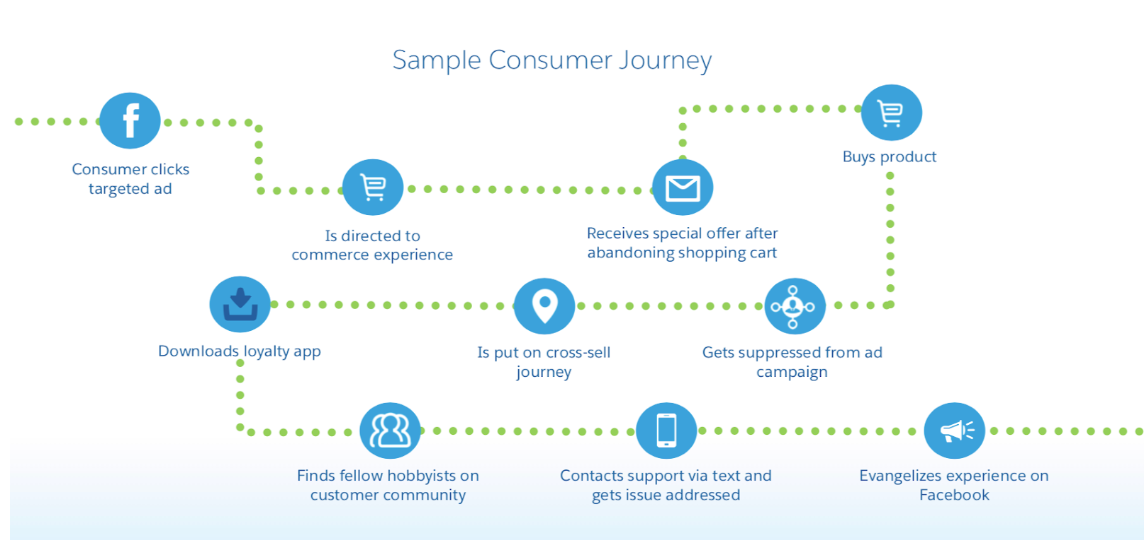 This model is based on the ME2B system, where people are the ones defining the type of relationship they want with brands. With a consumer base even more concerned about privacy and not disclosing their personal data with the world, brands need to create experiences that foster trust and strong bonds with their customers. The tools within Marketing Cloud allow them to build this relationship and gather valuable information about their users, their opinions, and their interests.
What can you do with Marketing Cloud?
As we already mentioned, Marketing Cloud has different tools or sub-clouds that have different purposes. They are:

Email Studio
Mobile Studio
Social Studio
Advertising Studio
Data Studio
Interaction Studio
Journey Builder
These sub-clouds let us:
1. Create automated and personalized experiences
Journey Builder is Salesforce Marketing Cloud's marketing automation tool. It lets you create customer journeys through multiple channels: email, SMS, push notifications, social media, ads, and web. These journeys have different stages based on the interactions a customer has with our brand.
Let's look at an example of when a customer starts to buy or book something but doesn't complete the transaction. We could go about it with different approaches:
a. Conventional process: We would send the customer an email inviting them to complete the sale, and the process would end there.
b. Automated journey: We would send an email inviting them to complete the transaction. If they open the message, we'll check if they complete the reservation. Should they not, we'll keep going with the journey. If they don't open the email, we'll go ahead and send them a push notification or SMS message. If they complete the transaction, their journey ends, but if not, we can add them to our database of people to receive messages from our Paid Media campaign. The process complexity can be as long as we need it to be to ensure we're giving ourselves the most chances to get in touch with our prospective customer on the right channel at the right time.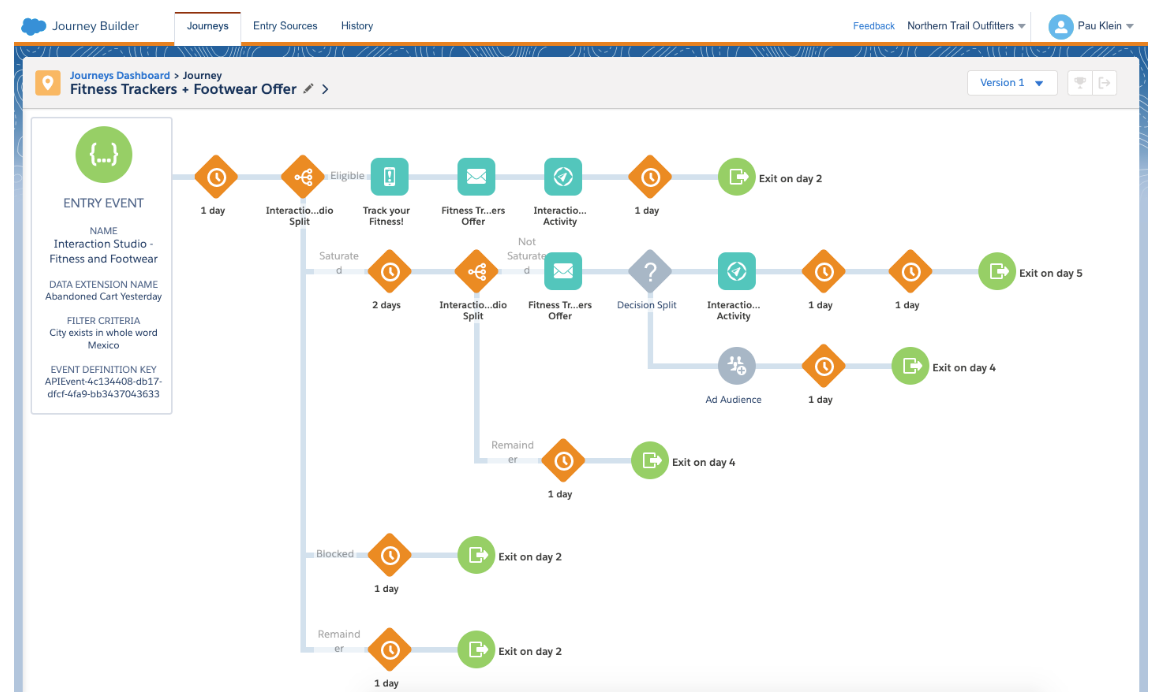 Plus, with Automation Studio, you'll be able to automize a large swathe of your processes ranging from data extraction, file uploads, segmentation, etc.
2. Increase the engagement consumers have with your brand
One of the possibilities Marketing Cloud has to offer is the ability to build relationships with customers and generate engagement. Integrated solutions like Email Studio and Social Studio will give you the power to create personalized email marketing and social media campaigns to turn your followers into leads. Mobile Studio will allow you to carry out actions via SMS, push notifications, or group messaging services.
3. Measure and analyze your actions' impact
You'll be able to generate real-time reports and statistics for each of the actions you execute with Marketing Cloud using Analytics Builder. You'll be able to track who visits your website comprehensively, the reach your email marketing campaigns have, how your social media profiles are faring, and more. Marketing Cloud also lets us determine how many customers and prospects we have at every step of the journey.

Using all this information, you'll have the knowledge you need to make better decisions and optimize your marketing actions to achieve better performance.
4. Segment your audience
Marketing Cloud puts all our company's data at our disposal and uses it as a jumping-off point and a means of interaction in our customer journeys using Data Extensions.
The data we have stored in our ERP, PMS, Salesforce CRM or our website is synchronized in real-time and available for all our automated marketing initiatives.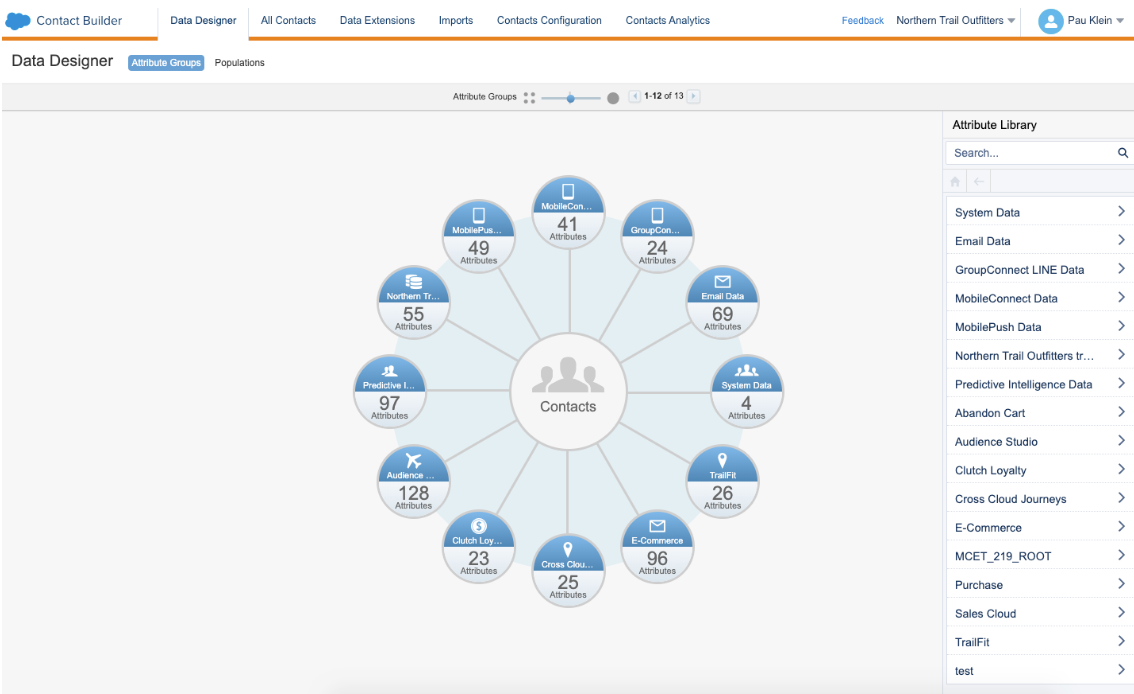 Direct yourself to your target audience in all your actions with the help of Salesforce Marketing Cloud: gather information, amplify it with second and third-party data using Salesforce DMP, and segment.
5. Get predictions with Einstein AI
Marketing Cloud has added Salesforce's Einstein Artificial Intelligence functionality to Marketing Cloud with Einstein Engagement Frequency, Einstein Engagement Scoring, and Einstein Send Time Optimization.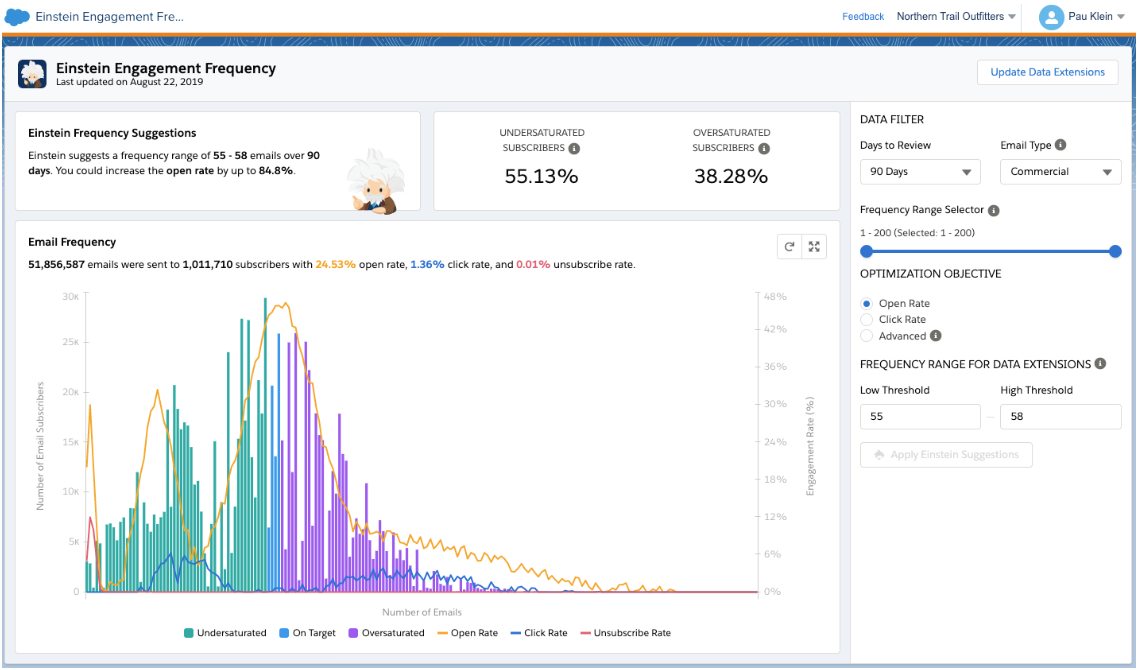 The AI functionality provides us with predictive data about our customers' behavior that lets us determine what time we send our email blasts to ensure we have a higher probability our users open them and generate engagement.
It also lets us see the segments we're impacting or over-impacting to adapt then the number of emails we're sending to each segment to optimize our performance.
What are Marketing Cloud's benefits?
With Marketing Cloud you can
Design and implement a cohesive, personalized 360° customer experience on all your channels.
Reach potential customers using appropriate channels and messaging.
Interact with users efficiently and effectively using multiple pathways.
Build a closer relationship with your customers and make them loyal.
Can any type of company use Marketing Cloud?
The Salesforce platform is open to all kinds of corporations. No matter how large or small your company is and where you are, Salesforce makes their solutions available to you. That's why they have packages for small, medium-sized, and large companies.
How can I set it up?
All you have to do is get in touch with a Salesforce partner that will help you implement and adopt it.
We at WAM and LeadClic are Salesforce Platinum Partners with more than 15 years of experience in the Salesforce universe. We bring together the best Salesforce solutions and strategy experts to help companies build personalized experiences that make an impact on their balance sheet.
Therefore…
As you can see, Salesforce Marketing Cloud is a unique tool for crafting Marketing Automation strategies and personalized strategies. The possibilities are (nearly) endless once we know how to get the most out of the tool. This capability can give us the power to completely transform the way we run campaigns to be even more efficient and effective.