They have been warning us for years responsive websites had to get set aside so companies could get used to the Mobile-First concept. As the name implies, mobile-first is about making sure that a website's design gets optimized for mobile devices first, rather than starting out by optimizing it for a desktop. Today, Mobile-First is now an imperative.
Why? Since Google unleashed the Mobile-First Index algorithm, your website's mobile version is now the primary source for your SEO positioning results on Google's search engine. Mobile's priority status is such that if your content on the mobile version of your website is not equal to your desktop version, you'll get penalized for it.
After a year and a half of testing, in March 2018 Google announced the rolling-out of the Mobile-First Index, a new tracking system that favors, above all, mobile versions of websites. In the official press release, Google explained the switch-over like this: "our crawling, indexing, and ranking systems have typically used the desktop version of a page's content, which may cause issues for mobile searchers when that version is vastly different from the mobile version. Mobile-first indexing means that we'll use the mobile version of the page for indexing and ranking, to better help our – primarily mobile – users find what they're looking for."
This change is a response to users' habits. And given the fact that 80% of Internet users around the world connect using a mobile device, and more than 50% of them run quick searches on search engines using their smartphone. Google will continue to have a single index for showing search results. Although desktop versions were indexed, mobile versions will soon become the bulk of the focus. This transition is playing out gradually, first on websites with little traffic, and then little by little, will grow applicable on all sites.
A way to find out if your website's already on the Mobile-First index is through the Google Search Console, the tool that will help you supervise and keep your site in Google search results.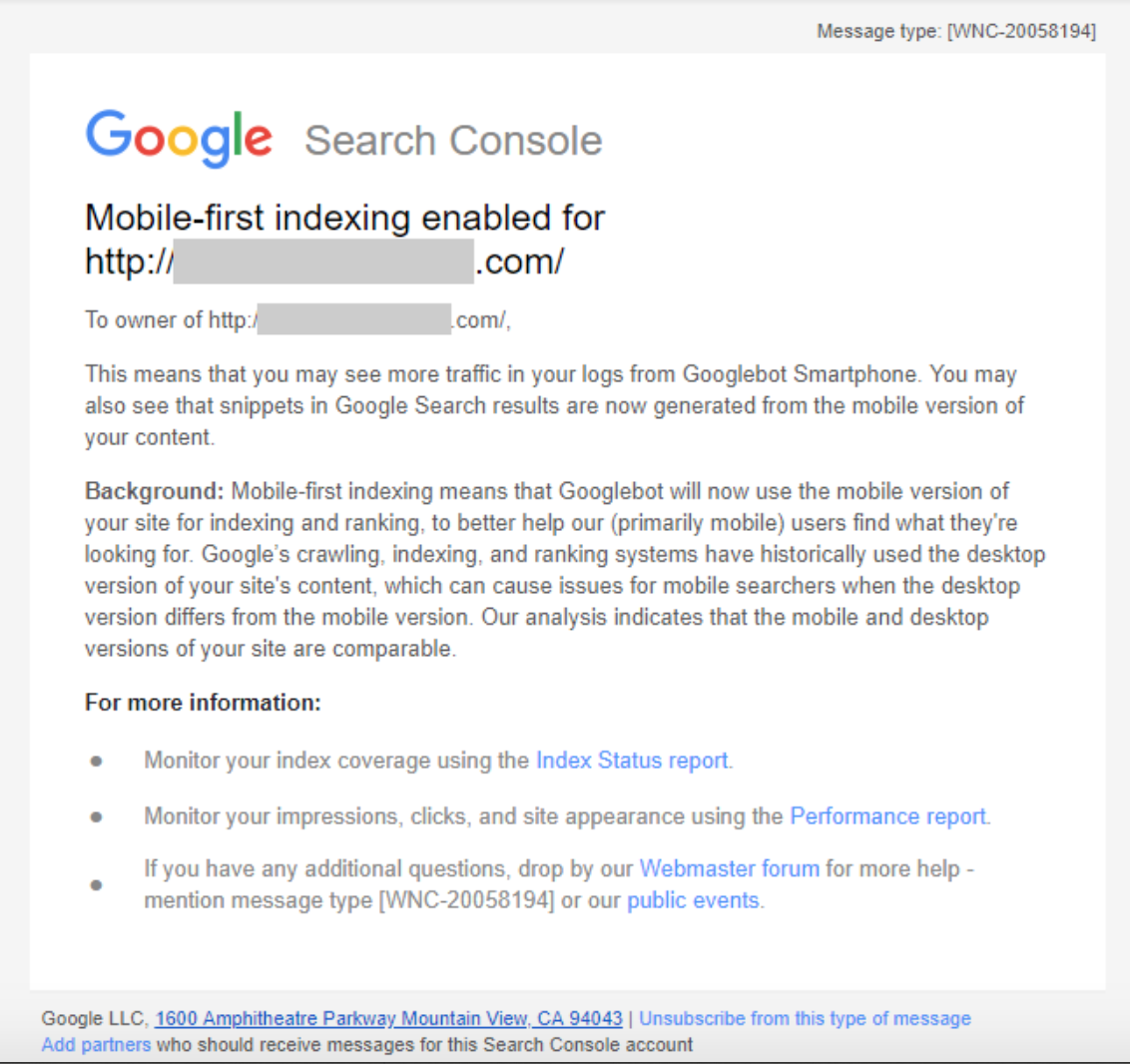 Source: Google.
This change signals a before and after in corporations' SEO positioning strategies. As of now, you have to consider the following factors:
- The mobile version is the version that needs to be the most optimized since it's the version that Google will visit first. Therefore, your website should be adapted so that it displays perfectly on mobile devices. When it's time to create a new website, it's best to create it for mobile and then go ahead and adapt it to larger devices, since it would already be web-optimized beforehand.
- The content has to be the same both in the mobile and desktop versions, since if we leave out information on the mobile version, Google won't take it into account. This content includes structural data or metadata that some web developers did not add to make the websites weigh less so that they could more quickly.
- In this sense, we can "hide" content using accordions. An accordion sector is where content is hidden, and we can only see the titles. By clicking on them, a user will then get to see the following content. This formula can get carried out to organize the information since Google will take it into account.
- Google will also keep loading speed in mind as an essential factor when it comes to awarding places in a ranking, since the situation on a mobile device has nothing to do with that of a computer, implying that the web design needs to be straightforward, usable, and lighter.
- Besides the more-technical vision, like we just saw, we also need to keep the customer experience in mind. If we didn't do it before, now is a good time to redesign our content strategy. To be entirely focused on mobile content, we have to walk in our user's shoes, know what he or she is looking for, what he or she wants to find and in what format, in an attractive and structured design.

The suggestions Google has been making for years about Mobile-First designs are now mandatory for any business that has part of its business strategy depends on its website. We live in an omnichannel world where users and customers complain about the brands that do not treat us the same online as they do in a brick-and-mortar store. Google is merely applying this user experience to the way we use the internet with our phones.