On May 4th, 2020, Salesforce announced the launch of Work.com in light of the new normal for businesses and communities in the wake of the COVID-19 pandemic. If your organization is wondering how you can safely resume normal operations once your local authorities lift restrictions, this suite of solutions may be just what you need.
With millions of professionals around the world carrying out remote work or WFH, as shelter-in-place orders have forced every non-essential workplace to close and professional services to go virtual, one of the most pressing questions is when can we go back? That's a question that Salesforce's latest innovation is looking to help organizations answer.
As the world's leading Customer Relationship Management (CRM) platform, Work.com is another example of Salesforce's commitment to bringing customers together and making it easier to communicate with them in the places they frequent most through the power of cloud-based technology. Why? As Salesforce President and COO Bret Taylor noted in the official press release, "[e]very company and community in the world is focusing on how to safely reopen and get to a new normal." As you'll see, that's Work.com's mission.
How did it come together? Salesforce collaborated with experts from across the private and public sectors, including the University of California San Francisco (UCSF) and the Business Roundtable on a real-time knowledge center. They also brought input from their partner network to create Work.com.
So, what is Salesforce's Work.com?
Work.com is a suite of essential business solutions that aim to help enterprises on their return-to-work readiness journey. Work.com is the second step in Salesforce's response to the COVID-19 crisis after introducing Salesforce Care in the wake of the outbreak to offer a set of tools for free of charge for 90 days in the initial phase of the pandemic. The firm made all data related to COVID-19 on Tableau free along with Salesforce Care that you can now access on the COVID-19 Data Hub.
Returning to a new normal is going to be a challenge. Work.com's role in Salesforce is to make sure enterprises have the tools to do so while keeping employee, community, and stakeholder safety in mind. How are they planning to do just that? The Salesforce Work.com demo gives us an inside look at its features.
Salesforce Work.com features
In an interview on CNBC's Squawk on the Street, Chairman and CEO Marc Benioff said: "When we go back to work there's things we're going to have to do differently." The features on Work.com attack multiple prongs of this new way of going into the office that's starting to take shape. What are some of the applications we'll be able to find under Work.com? Let's take a closer look.
Workplace Command Center
If you're in the C-Suite or managing a facility, we can safely bet that you and your team are taking a look at a slew of data trying to figure out your team's return-to-work readiness based on many sophisticated metrics. With so many inputs that make this decision crucial, the Workplace Command Center brings public data and your business's information to make data-driven decisions about reopening. What are some of the tools you can access? You'll be able to see Employee Wellness Assessments to determine who is ready to go back in when the time is right, availability for shifts (more on that later), and progress on personalized training modules.
Rapid Crisis Response
Emergency Response Management is a brand-new suite of products coming out of the public sector division of Salesforce's Product division. Emergency Response Management is for public health institutions, public sector agencies, and private sector companies with triaging and manual contact tracing critical parts of the tool. This set of tools shows a fusion between the public and private sectors and public health entities in collaborating for the greater good.
Contact Tracing
One of the most highly-anticipated features in Work.com is its contact tracing capability. As you'll see in the video demo below, the logic behind Salesforce's contact tracing program is similar to how we pursue customer relationship management. The difference? Instead of aiming to get a customer to buy a product or service, we're looking to safeguard public health by tracking people and their interactions with others if they encounter someone exposed.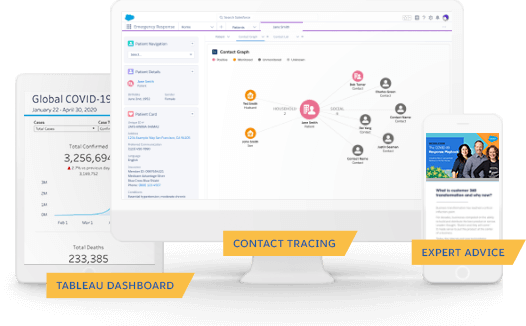 Why should you also pay attention to Salesforce's Contact Tracing technology? New York City, the epicenter of the pandemic in the United States, signed an agreement with Salesforce to launch a municipal testing and contact tracing campaign using its technology as the backbone. Salesforce will open the call center as well as roll out the CRM and case management platforms on June 1st, 2020. The State of Rhode Island has also partnered with Salesforce to scale its contact tracing. According to Governor Gina Raimondo, "Efficient, reliable contact tracing is essential for getting everybody back to work."
Shift Management and Planning
Another challenge in the new normal we'll have to contend with are physical distancing requirements that are causing us to rethink how we get into the office. Fortunately, the technology behind Field Service, one of our favorite solutions at Leadclic, has a solution. You'll now be able to confirm your employees' availability for shifts, and once you have that, you can decide staffing needs for the projects or shifts that are of top priority. There's an automated tool that optimizes scheduling, helping you take the guess-work out of deciding who goes in at what time.
If your office building only allows one person in an elevator at a time and you want to stagger arrival times, that's easy. Use the tools in Work.com's Shift Management and Planning suite to confirm your employees' availability and confirm their hours. They'll receive notifications on their phones, and they can verify their schedules directly from their devices. After that, the tool will determine the arrival windows that will get to your employees, and voilà, you'll have a trusty ally in fostering workplace security while respecting the new physical distancing guidelines.
Volunteer and Grants Management
Finally, one of the other features that stands out is the Volunteer and Grants Management feature that Salesforce created as a result of the need for volunteers in light of the pandemic. It seeks to simplify the connection of a volunteer to the right activity at the appropriate time, as well as to streamline the process of making grants, and of course, making organizations aware of the impact that their philanthropic efforts have on the community.