Did you know that 33% of users book their trips on their phones? Mobile devices are becoming increasingly essential for travelers, making them an integral player we need to consider in our marketing and sales strategies.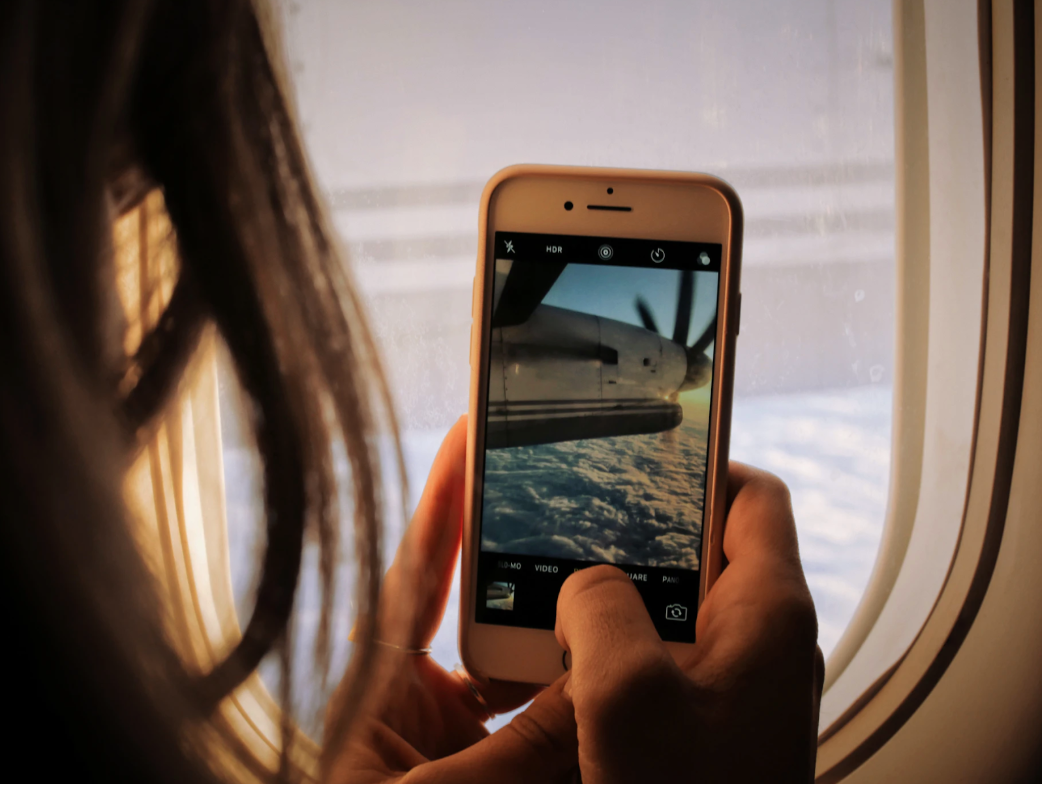 The development and expansion of new technologies is inciting drastic change in traveler's habits. We've seen how traditional print advertising is playing second fiddle to digital marketing, connected experiences, and Artificial Intelligence in less than a decade. We've also seen travelers start to book online, check-in on their phones, and chronicle their adventures on social media. Throughout this transformation journey, mobile marketing is playing and will continue to play a crucial role in the travel industry.
We only have to analyze our daily life to realize that these technological advances, more specifically, our smartphones, are essential elements. Just like we noted in our tourism trends report, it's estimated we'll surpass 5 billion cellphone users worldwide.
Mobile marketing: how are mobile devices used in the travel context?
Our phones' presence in our lives goes beyond our vacations. It starts from the moment we start looking for inspiration for our next trip and extends to when we're back home full of anecdotes and pictures on our camera rolls (on our smartphones, naturally).
Today we know that cellphones are a part of every step of the journey, which you have to consider in your mobile marketing strategy. According to multiple sources cited in our report, 33% of users book their trips using their smartphones and 62% of them believe an electronic boarding pass makes the process much easier.
A recent study from Travelport goes beyond that and examines the channels users employ, separating business and leisure travelers for three key actions: looking for flights, booking or paying for them, and planning part of a trip.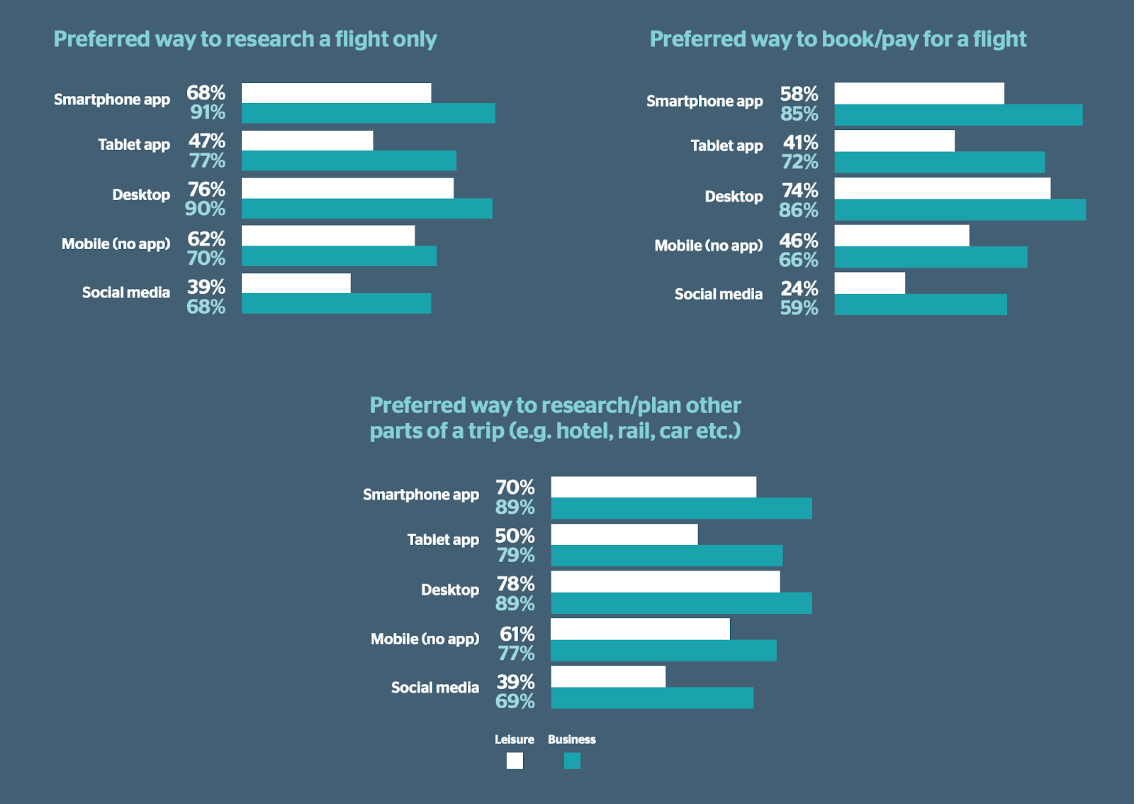 Source: Travelport
The data reveals that the most frequently-used devices are the computer, smartphone, and mobile devices in any of those three stages. Another insight is that business travelers are more accustomed to using their smartphones than leisure travelers.
We can also see that users prefer to use applications from their mobile devices than using corporate websites.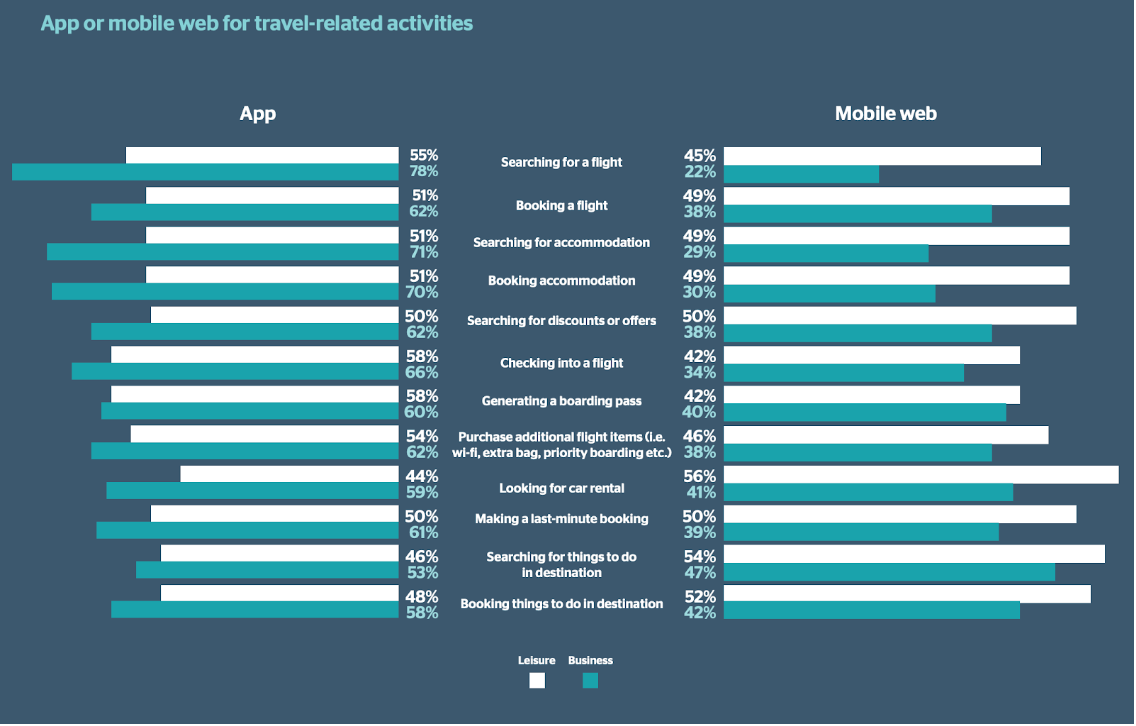 Source: Travelport
What are the touchpoints with the user?
In this context, we also have to understand that the purchase journey is not only non-linear but does not take place on a single platform. Relationships with users are increasingly complex while the tools and technological solutions tied to marketing help us ensure that relationship is increasingly relevant.
According to a study from McKinsey, when we analyze the complex customer journey, they tend to change from channel to channel on an average of 50 times interacting from a computer, tablet, or smartphone screen. And that's how we identify up to 100 different touchpoints.
What to consider when pursuing a mobile marketing strategy
1. The need for web-responsive design
It may seem obvious in today's world but there are still websites that adapt to mobile devices. It's therefore fundamental to highlight the importance of having a site with a responsive web design that adapts to any mobile device, especially if we want to implement mobile marketing strategies. The latest Google algorithms "reward" to those websites that perform well on mobile devices, causing them to move upon their rankings.
The websites that work well on mobile devices use responsive mobile web design or a design that automatically adjusts to the size and shape of the screen the user is using to connect to the website. As we have seen, creating a website with adaptive web design is fundamental for ranking well on Google, and as a result, making it easier for potential customers to find you.
Achieving better organic results is one of the reasons travel marketing needs to adopt responsive web design. Another reason is that mobile device users don't stay on your website for a long time if it isn't responsive. According to ExactTarget, 27% of users abandon a website that's not adapted to mobile, and this is an outcome we should avoid. The more time someone's on our website, the more chances we have to turn them into a customer.
Responsive design offers a continuous user experience that's independent of the device being used. This is crucial in travel marketing since Think With Google research found that about half of those using their smartphones looking for leisure travel ideas end up booking on another device. Since many travelers use their smartphones to search before turning on their computer or laptop to book or enlist the help of a travel provider, you must ensure your brand's marketing messaging and look-and-feel are uniform across devices.
2. Passing travelers: your website must always be spot-on
While some travelers plan every single detail in advance, some prefer to be more spontaneous with their itineraries. Someone could plan a day trip to Madrid and fall in love with it so much and decide to feel the need to spend the night. You need to ensure your hotel is conveniently in the search results when travelers open up their smartphones and start looking up "hotels in Madrid" or "hotels near me."
Google makes an effort to provide local, relevant results for these types of searches to be as useful as possible to these types of tourists. That's why those hotels in closest proximity show up first. The locations show up with the results to make it easier for them to see what's closer. Optimize your website for these searches using a local domain and verifying that your location and contact information are correct using the Google My Business tool.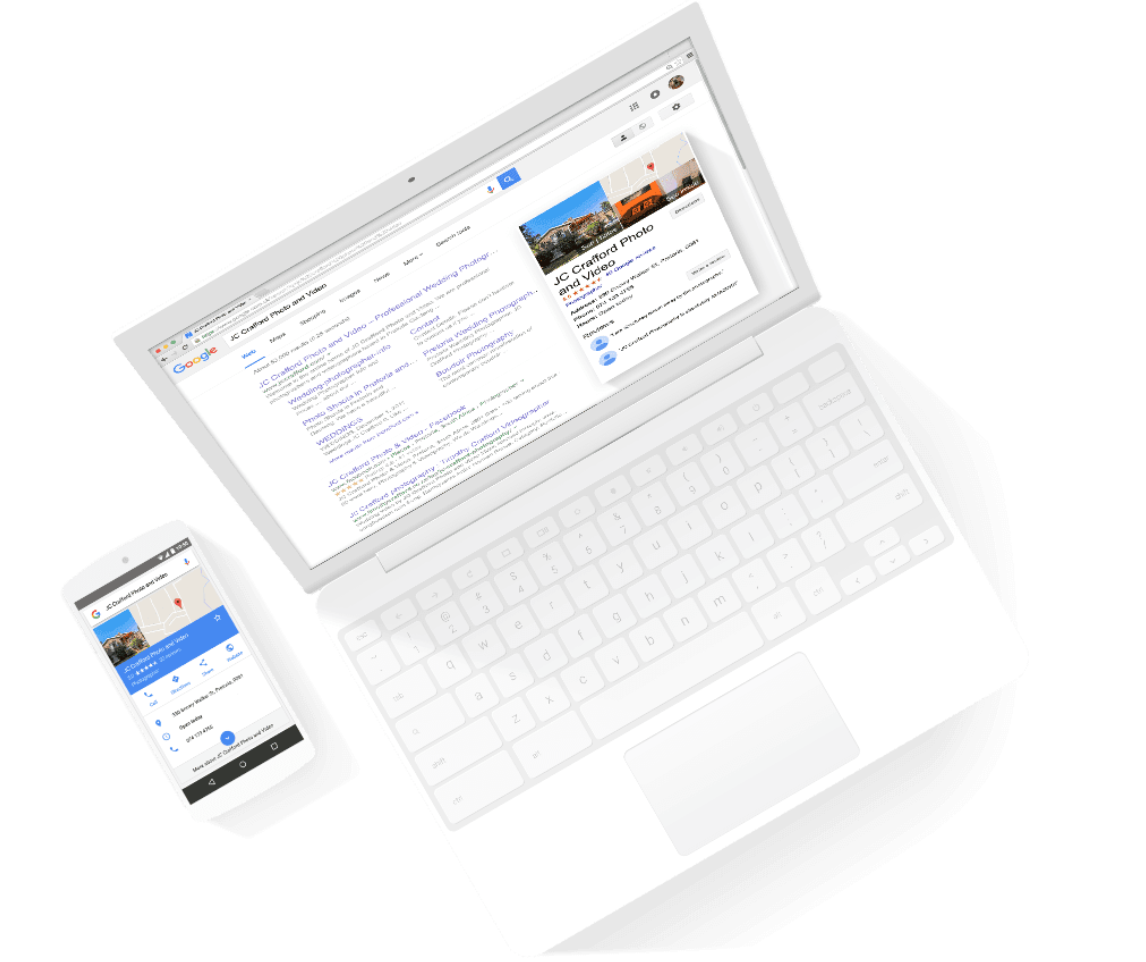 Source: GoogleMyBusiness
3. Personalize your offering to connect to users
Personalized travel through mobile devices is also a chance to reach users and surprise them with deals that adapt to their needs and interests. Research shows that customized experiences, whether online or in real-life, lead to satisfied customers and ore stable relationships with brands. It's also an increasing demand from consumers, as 69% of them will be more loyal to a travel firm that personalizes their experiences.
Make use of 360° marketing tools to create campaigns that connect all the touchpoints a brand has with customers and offer them a personalized, coherent experience. Automation and artificial intelligence will allow you to cultivate a much closer relationship with your target audience and win their trust.
4. Micro-moments, an increasingly relevant part of travel decision-making
According to Think With Google, 69% of leisure travelers use their smartphones to explore new offerings during their water times, such as in the checkout line at the grocery store or while on public transport. Google dubs these intense, short times where people are browsing and searching on their mobile devices as "micro-moments." Those super quick moments of "I want to find," "I want to go, "I want to do," or "I want to buy" shape travelers' brand preferences and influence their final purchase decision.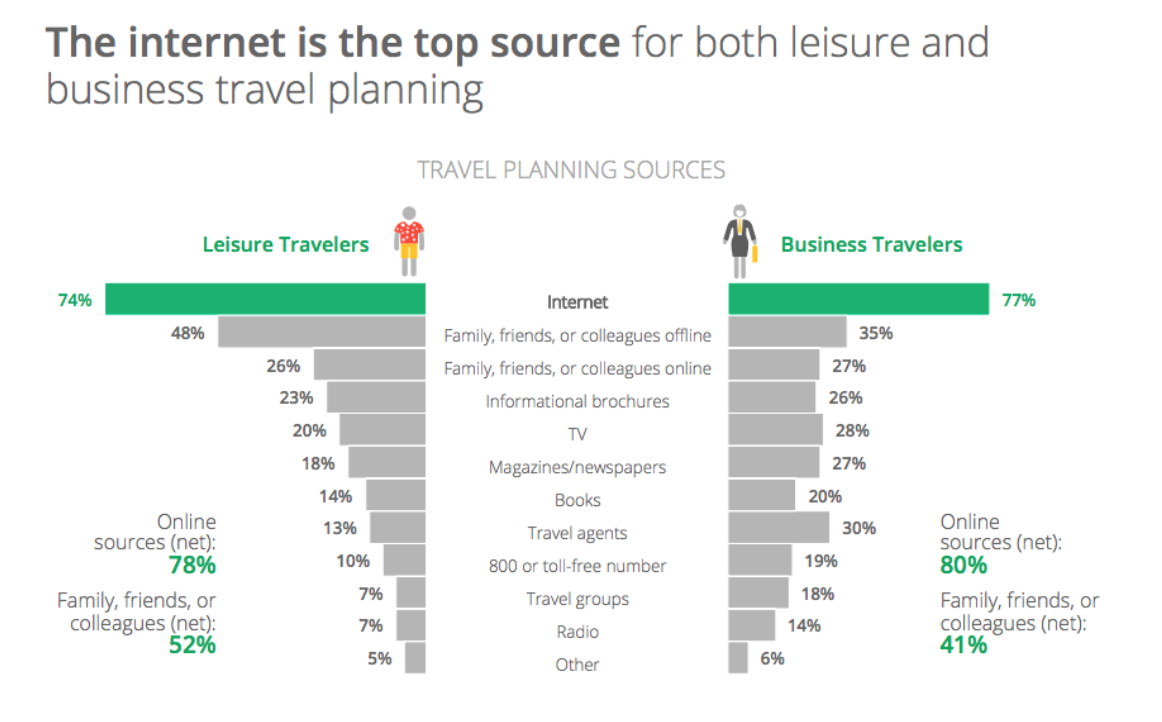 Source: Thinking With Google
The study concludes that 54% of pleasure travelers find ideas on their smartphones through quick connections to search engines while 47% trust in social websites (forums and social networking sites) during their trips. These findings imply that good tourism marketing best practice goes through making efforts to create direct, easy-to-consume, and easy-to-read content that answers their questions in a click.
5. Use 5G networks to create one-of-a-kind experiences
Two-thirds of the world's mobile connections will be on 4G and 5G networks by 2025. Of these, 53% of them will be 4G, up from 29% in 2017. Despite that, 5G unlocks a world of opportunity. It will let you browse 100 times faster with average speeds of 20 Gbps. As a result, data downloads will surpass those on current fiber-optic networks. As an example, you'll be able to download a 1GB movie in less than ten seconds.
The significant improvement from 5G will also increase the ability to manage a greater number of connections per installation that will allow for the boom of the Internet of Things. We'll also have the chance to create Virtual Reality or Augmented Reality experiences.
Therefore, mobile marketing is a tremendous opportunity to connect to users and make them see what we have to offer. This channel will help you land greater visibility for your enterprise, be closer to the tourist/traveler, turn yourself into a referential brand, and be in their top-of-mind in your industry.