Business Intelligence is successful companies' secret weapon: thanks to this technology, they take advantage of their knowledge to achieve better business performance. And we know what the best tools are out there on the market.
Adapt…or die. This is the saying that perfectly defines the Business Intelligence (BI) universe ever since corporations incorporated the Digital Transformation into their business models. It's a world in constant change, where a multitude of BI tools capable of revolutionizing technology in mere seconds "are born and die."
Business Intelligence originally came about with the aim of transforming data into information useful for decision-making. And if that information is well-analyzed and processed, it can be a critical piece of a company's strategic development.
But before we start breaking down all the advantages that come with this technology and the tools that have come about around it, we should remind ourselves what Business Intelligence is.
What is Business Intelligence?
The term Business Intelligence refers to the use of strategies and tools that serve to turn information into valuable knowledge for a firm. Its primary objective is to improve a company's decision-making and at the same time, its performance.
The firms that employ BI in their internal processes better take advantage of their resources. Based on the information they have available they can, for example, conduct a more accurate market analysis to better gear their corporate strategies. Therefore, if used correctly and has the necessary resources, it can be a powerful tool.
When and how did Business Intelligence tools come onto the scene?
According to Justin Heinze in his article History of Business Intelligence, the first record of the term is in an encyclopedia published in the United States in 1865. However, we can't start to talk about business intelligence in the way we understand it today until the 20th century.
The first tools started to emerge in the 1990s, albeit ones that were not that intuitive and difficult to use. That's why the early programs capable of providing useful and interesting information did not emerge until the technology behind it evolved, and the market saw the potential behind it.
Today's tools are much more sophisticated, powerful, and can analyze and process an infinite amount of data, sources, and help corporations derive valuable conclusions for their businesses.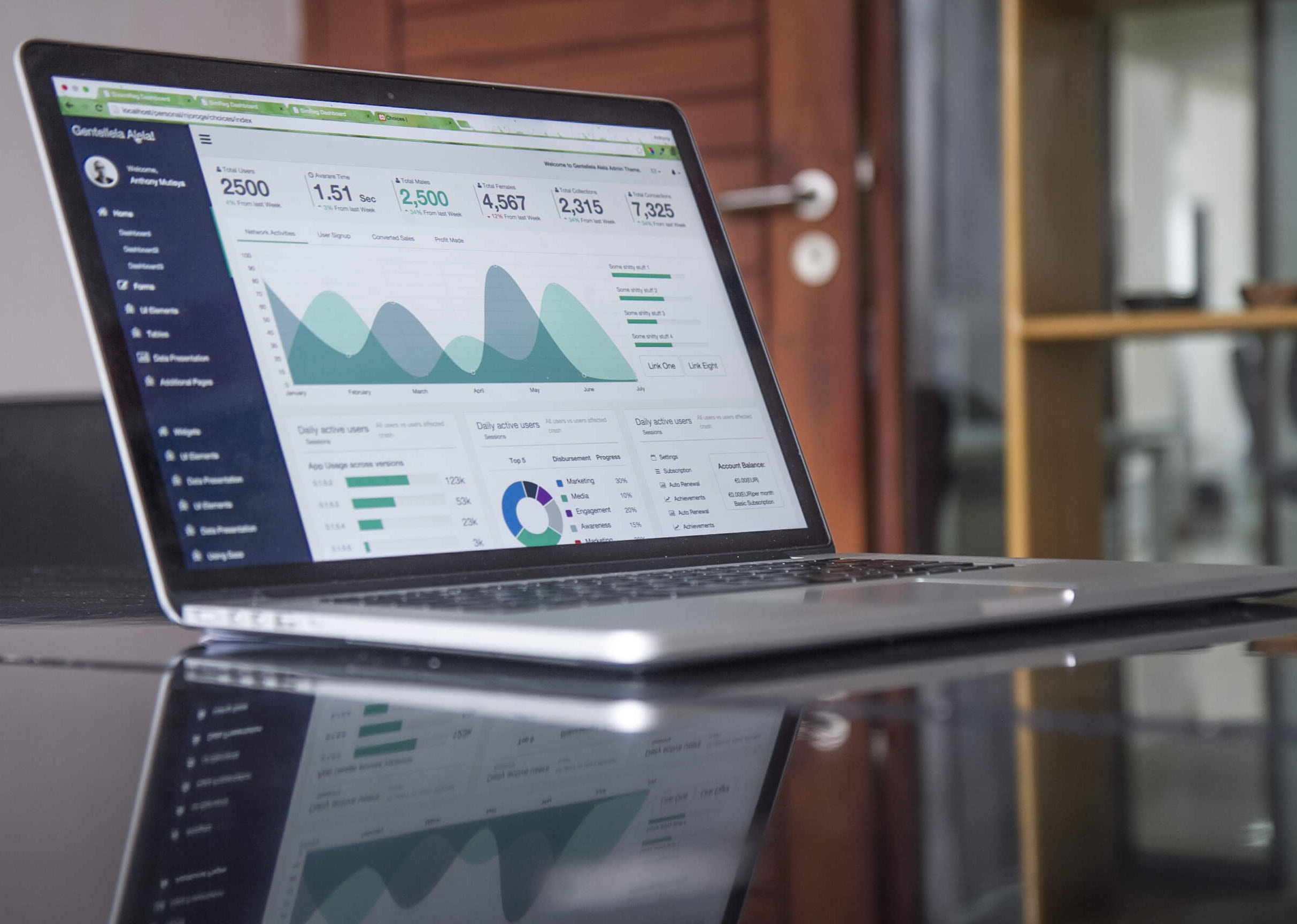 Source: Unsplash
According to Gartner in the 2017 edition of their global Business Intelligence study, they projected that the market would achieve earnings of 18 billion dollars and in 2020 that number would arrive at 23 billion.
The benefits of Business Intelligence tools
The truth is that this growth is logical: Business Intelligence offers firms the chance to improve their performance and put them on top of their competition. Who wouldn't want that?
Some of the most noteworthy advantages that Business Intelligence programs offer are:
- Analyze internal and external information coming from different sources and systems.
- Increase analytical and reporting capabilities.
- Make reliable future projections based on real data.
The best Business Intelligence tools
At We Are Marketing, we're aware of the fact that data is currently the most valuable asset in the world. And, in an increasingly digital world, corporations generate a vast amount of information needing to be analyzed.
This is why Business Intelligence is a part of our day-to-day, and we implement systems that connect every single data source that a firm has on the same platform. This way, we're able to interpret that information and consult our clients on how to make their business grow in the most effective way possible.
This is why we are continually searching for "the tool." As we previously mentioned, today, a plethora of programs "are born and die." At times, it is onerous to keep up with the rhythm of technological advances; nonetheless, we work to be up-to-date and know the best solutions out there on the market. We've tried many but, for us, the best is Salesforce's Einstein Analytics suite of products.
What is Einstein Analytics?
The Einstein Analytics suite of Salesforce products aims to offer advanced analysis in different areas thanks to the use of Artificial Intelligence (AI). Companies can analyze all the information they have in every business area (Sales, Marketing, Analytics, and so on) to improve their performance without having to build mathematical models, write algorithms, and more.
In layman's terms, Einstein Analytics is a program that aggregates all the information Salesforce can extract from various channels, and by using Artificial Intelligence, it derives meaningful analyses and conclusions for a firm. And the best part is that there are business area-specific applications that can take particular advantage of this information.
What are the applications for Einstein Analytics?
These specific applications have preconfigured KPIs that gives users the chance to explore data, detect trends, and quickly and easily get conclusions.
Sales Analytics
- Monitor sales over time.
- Lets you quickly visualize sales volume through its preconfigured dashboard.
- Gives you the ability to create presentations, proposals, or communicate to the team about any discovery or idea.
Service Analytics
- Centralizes KPIs to better identify problems and obtain insights.
- It perfectly integrates into all your possible sales channels.
- Stores clients' complete history, letting you give them quicker answers.
B2B Marketing Analytics
- Lets you create personalized dashboards to understand marketing results better.
- Makes it easier to understand and analyze marketing campaigns and marketing's overall ROI.
- Offers information about what tactics are working best and to share them with the team.
Einstein Analytics Platform
This application is a bit different than the rest given that it lets you configure analytics applications, data dashboards, and external data sources to meet your individual needs. If you need personalization, this option is perfect.
Einstein Discovery
This is perhaps one of the Einstein Analytics family's most exciting products since it runs thousands of statistical checks to confirm that every trend is valid and simultaneously provides guided explanations for how to act on each case and create presentations so that every manager has the visual aid when it comes time to explain it to the team.
This Salesforce Business Intelligence tool is up-to-date when it comes to new trends and needs that arise in the industry. For all this, we have to be ready! Managing these Business Intelligence tools can be the first step towards understanding this complex universe and be able to have a grip on your business's data.